I did not just go to
New York City
, but I also did a four-day city trip to Boston. So I also wanted to do a short post on my city trip to Boston. The post mostly consists out of pictures of the buildings, because I fell in love with the eclectic architecture of this city! I kept looking up. It was all so beautiful. Honestly, I think Boston is way more beautiful than NYC!
What????! How is that even possible?

Well, I sure as hell did not expect it either. The city is so much cleaner, the buildings are way more eclectic (from Romanesque and Gothic Revival to Art Deco and super modern buildings), and there's plenty to do (but plenty more in NYC). The people are also very friendly (to me, anyways). I do not know how to better explain it! I unexpectedly fell in love with Boston, especially

Back Bay

but everything in the city center looks amazing.

But no Chris Evans

.

Major letdown.
After only being in NYC for a couple of days, we had to pack a small suitcase to take with us to Boston!! We hit the road (Jack) in the afternoon on a lovely sunny day. The drive to Boston from NYC can take up to 4 hours (if I remember correctly), but we got there pretty fast. We had two stops for when nature called and to eat some not-so-yummy-Subway (I like it better here), and we arrived in Boston around dinnertime. My sister and I stayed in a hotel that was one block away from
Copley Square
in
Back Bay
(one of my favorite places in Boston), so that was amazing. We had delicious food at a Thai restaurant, and then we slowly wandered back to our hotel. Boston also looks beautiful at night!
Our hotel was also right around the corner of
Dunkin' Donuts
. I am a huge fan of Dunkin' Donuts now, because their Iced Macchiato with Caramel is just so freaking good. I have even had medium sizes (and not just small ones), but I need to be near a toilet if I had to drink that, because my bladder cannot handle that much liquid that fast, ha. They also offer breakfast (bagels and such), so that is another reason for loving it. Take that Starbucks. Though I also visited
Starbucks
, because Mini Caramel Frappuchino's (yeah, I love caramel). Then we discovered all of Back Bay and walked through the park and saw so many wonderful things. Oh, there was a heatwave going on when we were in Boston. Yay? In the afternoon, my sister and I accidentally (but not) walked into the shopping street and came across Macy's. I walked up to the
Michael Kors
section, because I really wanted a new (but smaller) Selma bag in a pink color. I found it! And it was for sale! Heck, I almost got 50% discount on that bag.
My day was made
.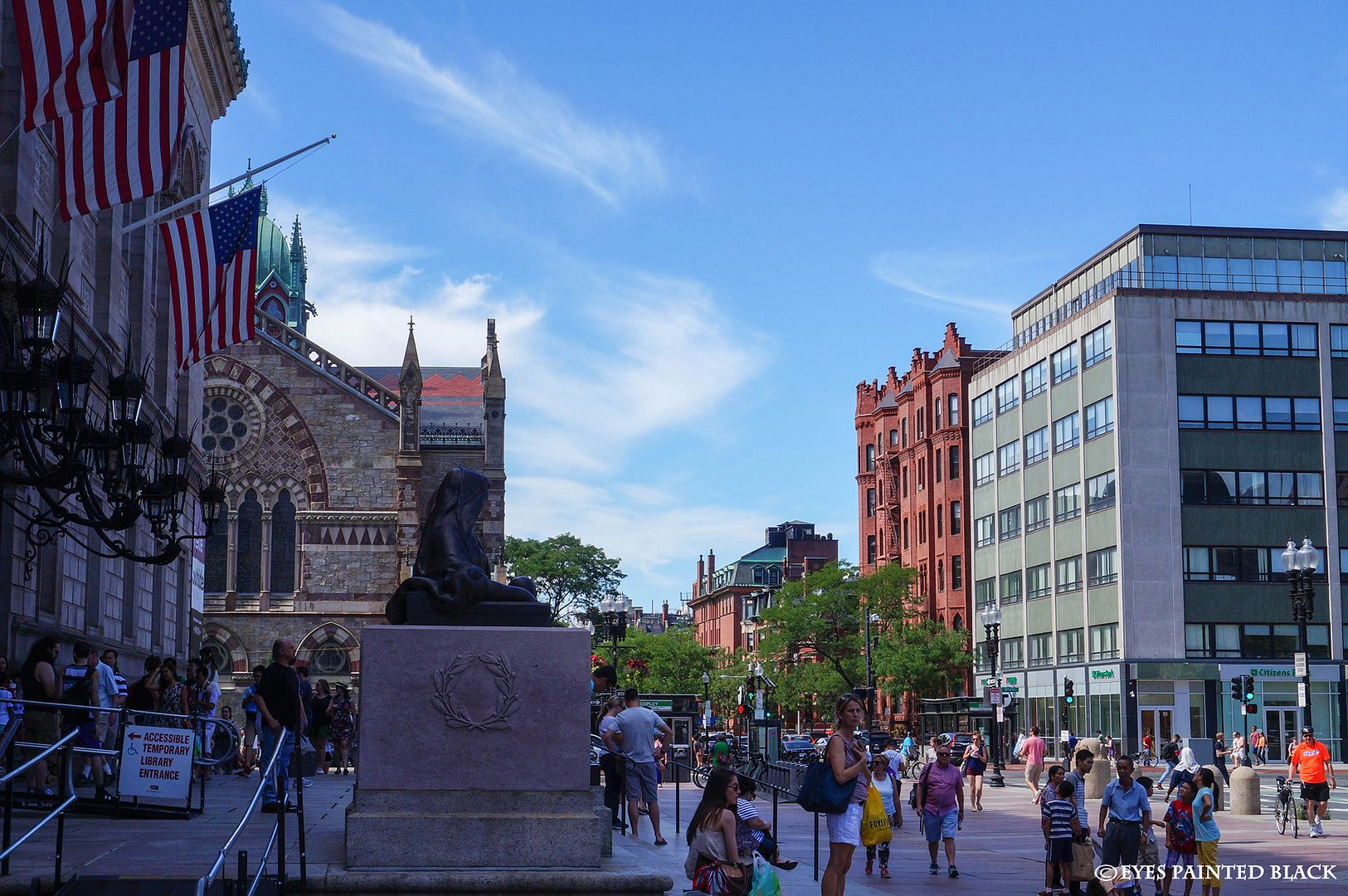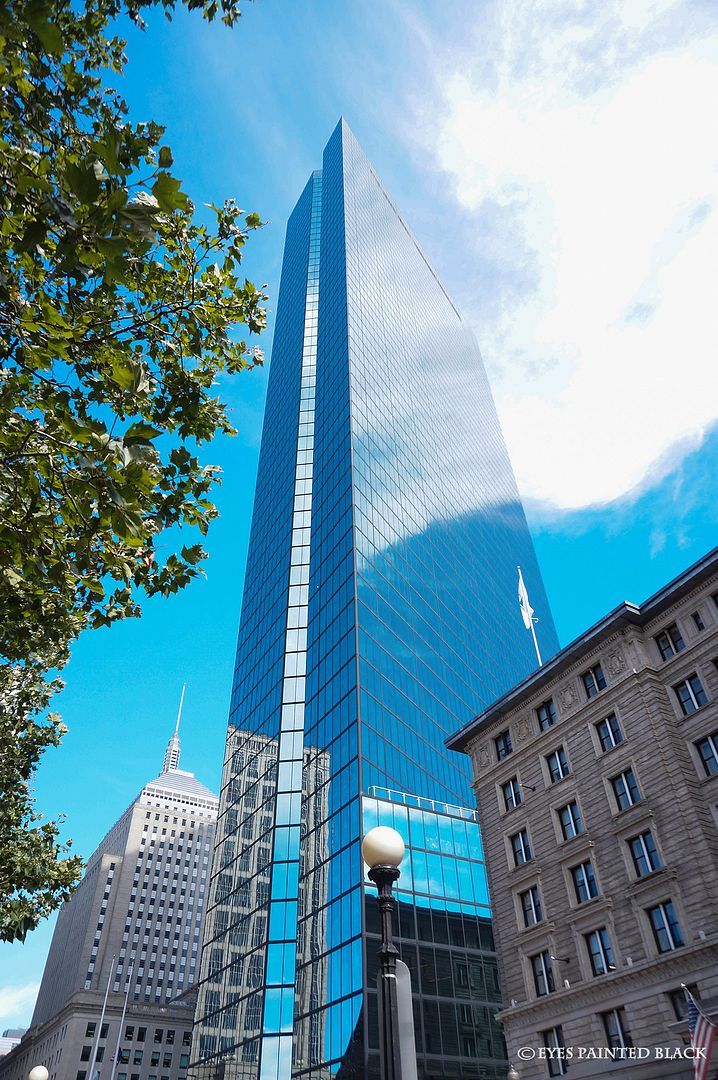 Oh, here are more pictures of the buildings near Copley Square. Impressive, no? Newbury Street and Boylston Street on either side. Two great and very touristy (I guess?) streets, but filled with fun shops, hip restaurants, and so much more good stuff. You have to go there. I want to go there. Again.
We accidentally ended up going to a comic book store. We just happened to walk in a street where they had
a comic book store
. This one I really did not know about, but we did end up buying so much. We bought "Preacher", "The Killing Joke", "Attack on Titan" (all comics or graphic novels) and a dancing bobble head of "I Am Groot". He is too adorable. He is sitting on my desk right now. Looking at me. Awww. After spending too much money we walked up to the harbor and just sat there for a while.
Trying to cool down and relax.
Four days really went by too quickly, and there are so many stories that I want to tell you, but I will just leave it at this.. otherwise I will get too homesick for Boston. The only good thing about saying goodbye to Boston was
the Amtrak train
from
South Station in Boston to Penn Station in New York City
. We used the services of
the red caps
(they store your luggage and then take you to your desired seats earlier than the rest and put away your luggage again), the seats were very comfortable, and there was a phone jack to keep our phones from dying. However, the best thing about the Amtrak train ride, which took about four hours, is that you get all kinds of
beautiful views of coastal cities and strange little towns
.
Boston is definitely worth visiting, and if you do... I hope you *do* run into Chris Evans.