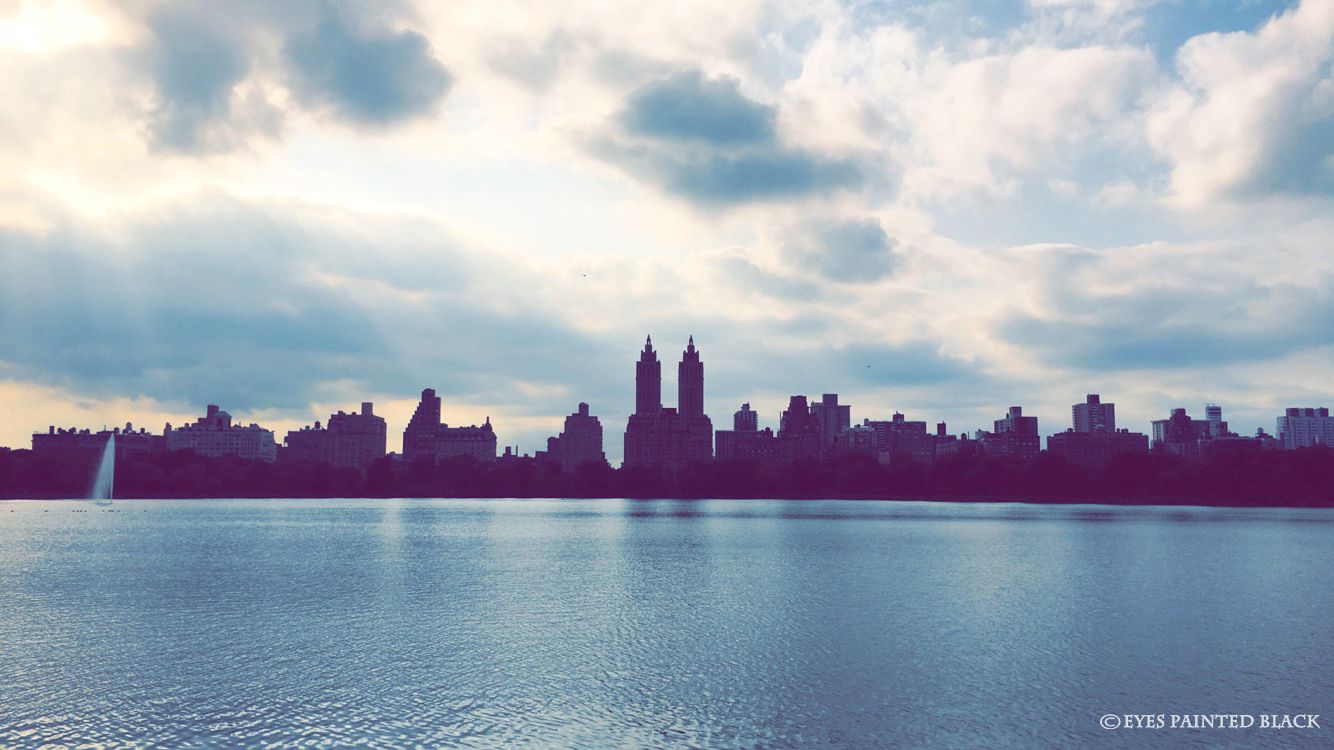 I finally had some time to write this post. In 2.5 weeks one can do a lot of things in New York City. And so I did. I had to make a selection of the photos I made, so I chose the pictures with the most interesting, meaningful or fun memories. Expect an eclectic bunch of photos of random things, and buildings. What can I say? NYC has great architecture. It is a city that is always (re)constructing and deconstructing! Thank you favorite professor for teaching me that!
My family and I bought a really good deal via cheaptickets, but that ended up turning into
a disaster
(the paper work) which costed us way much more money... so we learned a lesson there. Never again with cheap tickets, ha! Nor am I ever flying with
United Airlines
. We flew from Amsterdam to Washington Airport, then from there to Newark Airport. Well, let me tell you. United Airlines feels like RyanAir, except that you pay a whole lot more. You get grumpy flight attendants, 4 (ughhh) films being replayed during the flight (boring), and I apparently swallowed sharp plastic because the plastic from the plastic tray broke and fell in my food.
Death probably averted?
Also, Washington Airport is a horrible airport to choose as a transfer. We were even told by Americans who regularly use it (not sure why they keep using it?). Anywho, after being awake for over 18 hours and feelings sleep drunk we finally arrived at
Newark Airport.
This is no way near New York City, though. Luckily, I am a planner and I decided our best bet would be to take an
UBER XL
from the airport to our location in Queens. This went smoothly and we had a super friendly driver who lives in New Jersey but originally came from Chile.. and yup, we basically swapped life stories.
It was fun.
We also got to see NYC from the other side of the Hudson River and that... made it worth the hassle, ha!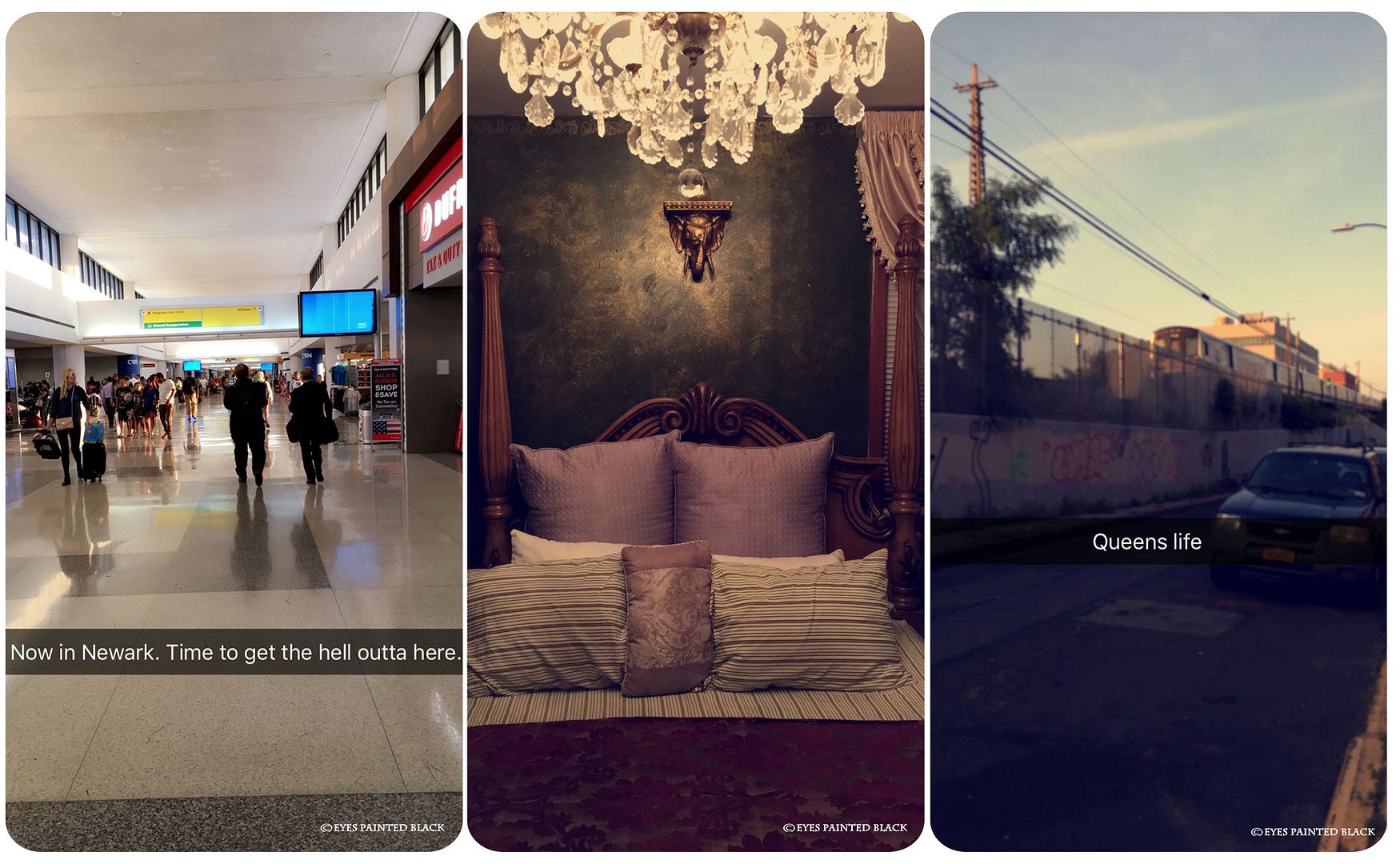 My sister and I were staying at our uncle's place (oh, we've got a huge family living in NYC), and when I saw his guest room it felt like I had died and gone straight to heaven. Yes,
sleep deprivation
played a part, but just look at the second picture... it looked like a hotel room! It was amazing. We were also able to use their
Netflix
and they have the two most adorable children. If you follow me on Snapchat then you surely saw lots of pictures and videos of them!
Queens
is really different from Manhattan, because it feels more urban with a lot of different little communities (little guyana, little jamaica, little I don't know what else). We stayed in
LaGuardia
which has a huge hispanic community, so I got to practice my Spanish a bit! That was fun!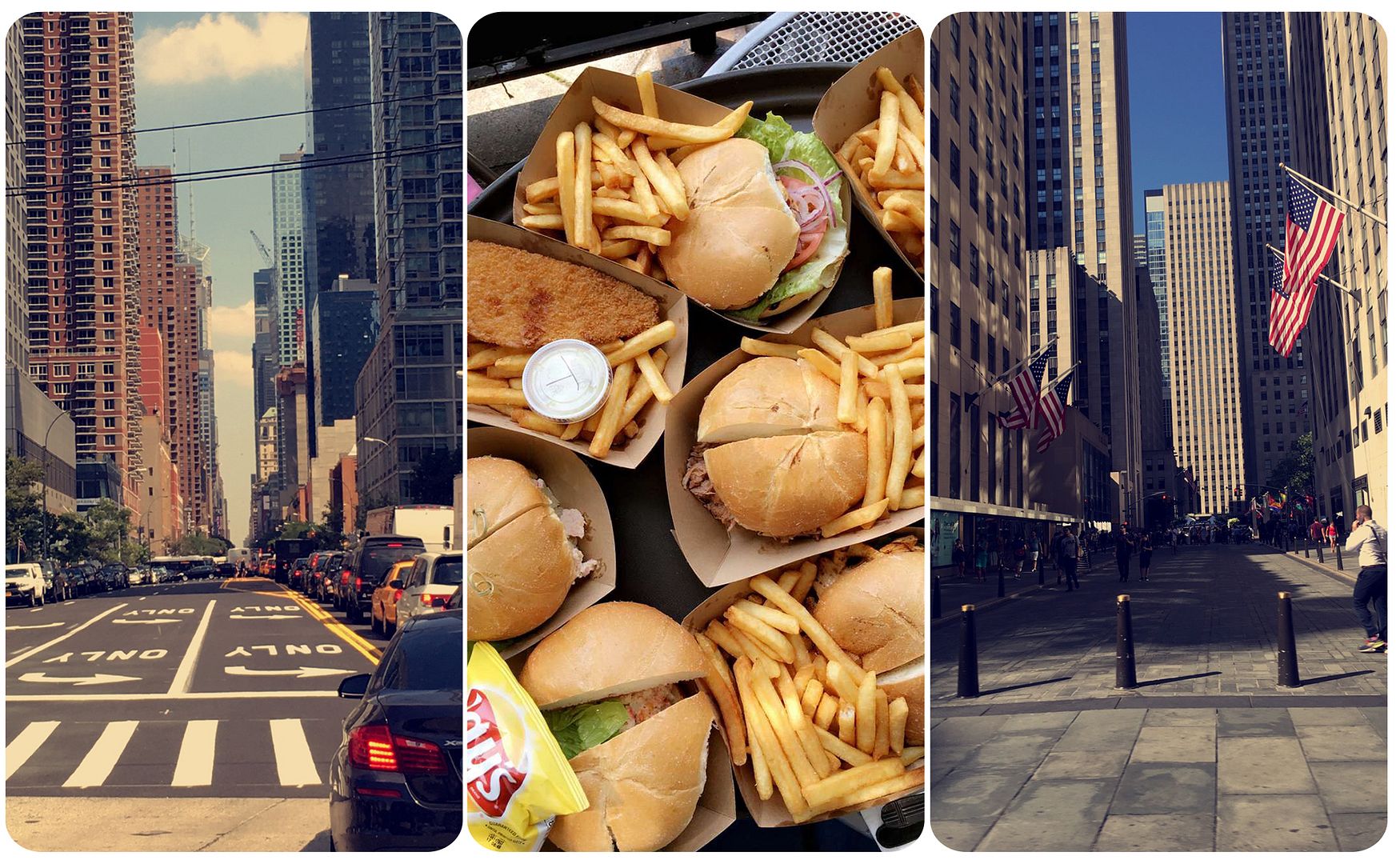 During the first few days we went around Manhattan, from downtown all the way into uptown. Traffic is awful. There is always construction going on. However, it does give you the time to appreciate the wonderful architecture. I also tried my first lobster roll. I was really curious about that one. I have never had lobster in my life... and certainly not in a roll. It was delicious! After those few days we went to Boston.. but I will tell you about Boston in a separate post!
When we got back from Boston we tried to visit all the boroughs at least once. We spent
a day in Brooklyn
and the borough stood out to me, because I had a lot of expectations. I keep hearing it is becoming more and more hipster, and I guess that much is true. Right now areas like
Williamsburg
still feel very urban, but you see a hipster place here and there. We actually tried some really nice things in Brooklyn, but I will tell you that another time. One thing that immediately caught my attention... is the third picture. I watch "
Unbreakable Kimmy Schmidt
", which is a show about a woman living in Harlem, NY. That really isn't the synopsis of the show, but that is all you need to know. It is a parody of people in NYC. Well, her landlady is always going on about how
hipsters
are taking over, and how gentrification should be stopped. So when I walked by this door and read the text... I had to laugh so hard. It says: "Gentrification is white washing. BK, NYC", then someone replied to that saying: "Fuck this guy", to which someone else replied: "Fuck you".
I love it.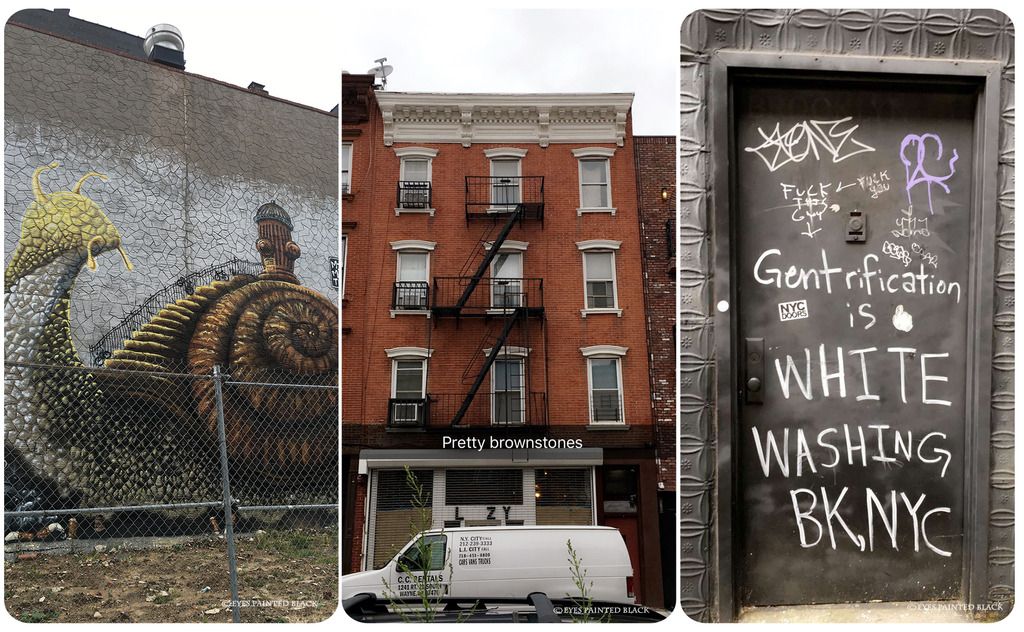 I also thoroughly enjoyed walking on
The High Line
. It is a huge park that was built on the old elevated rail tracks. You can even see the tracks in the ground! It is situated in Midtown, the
Meatpacking District
to be exact, and the whole walk takes up about 30 minutes (more or less). You get to see gorgeous sights of Manhattan and you are really walking through the city with buildings on both sides of you!
My sister and I wanted to do several museums, but eventually we decided to go for
the Guggenheim Museum
and
the Met
. Unfortunately, we ran out of time and so we could not do the Met anymore. How does one run out of time when you've got 2.5 weeks in NYC? Ugh, beats me. Anywho, the Guggenheim is worth viewing for just its architecture. And I mean that. Just its architecture, because the art works were kind of weird and out there. Maybe I'm too much of a classicist *insert laughs*.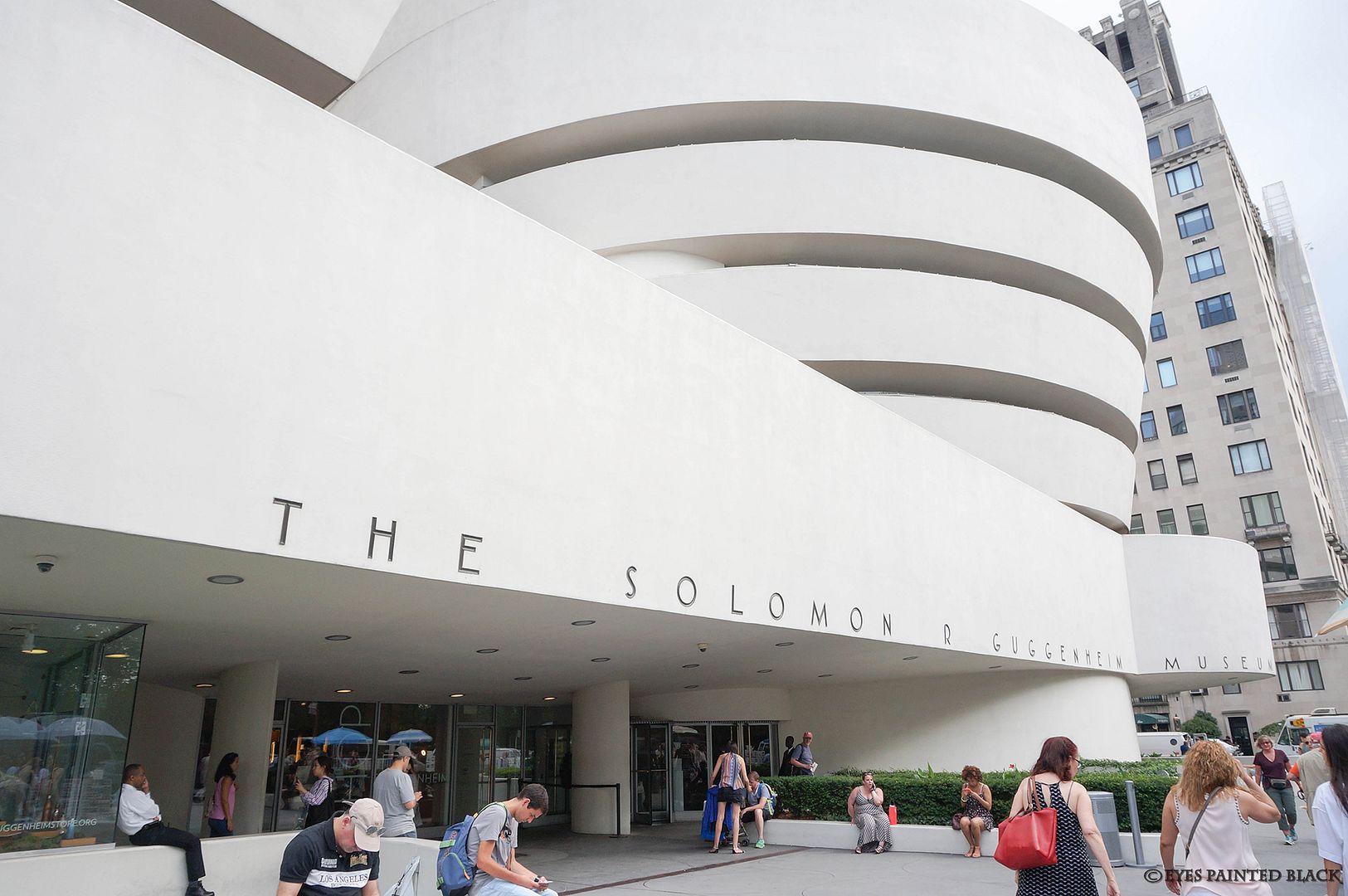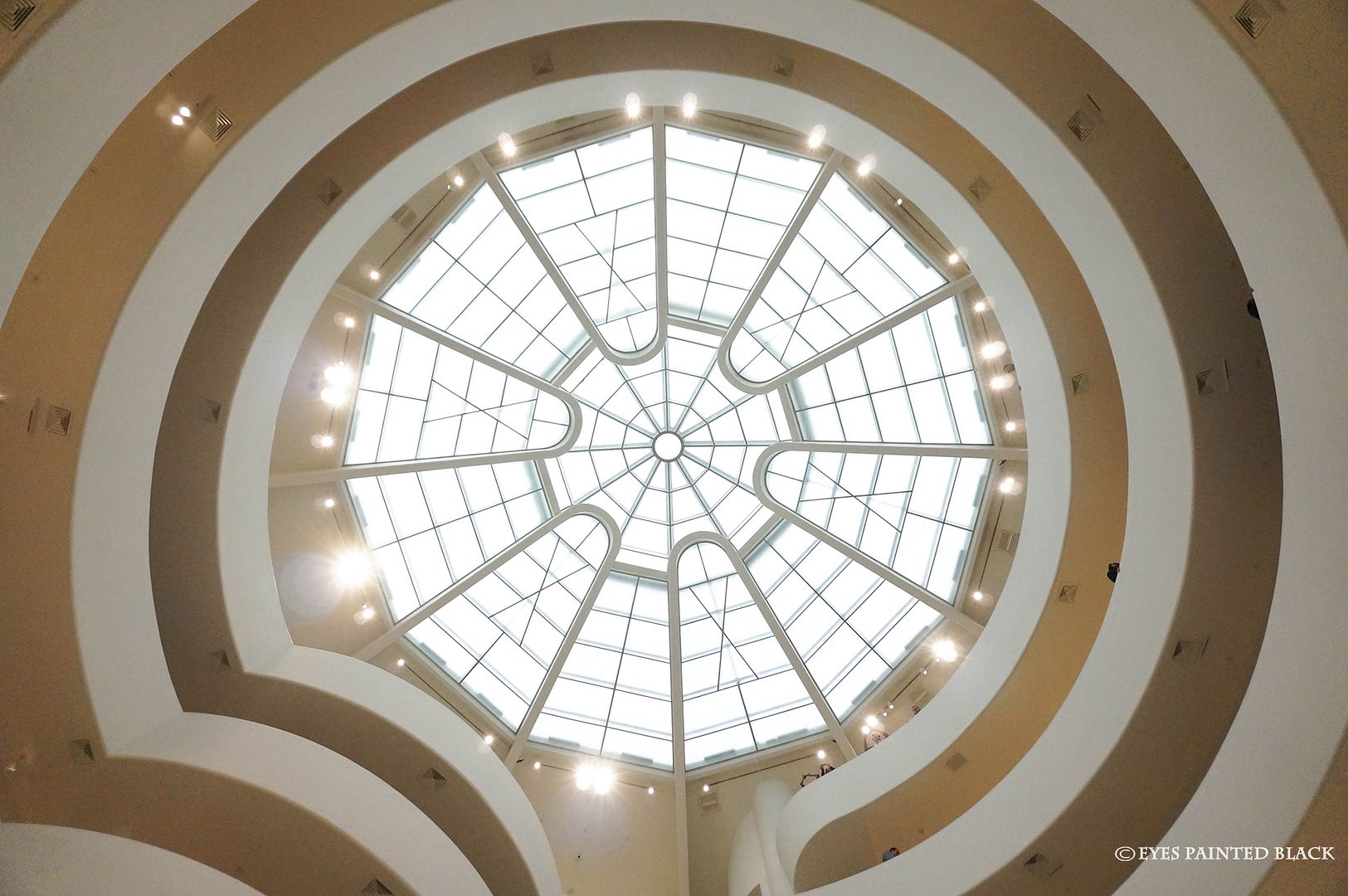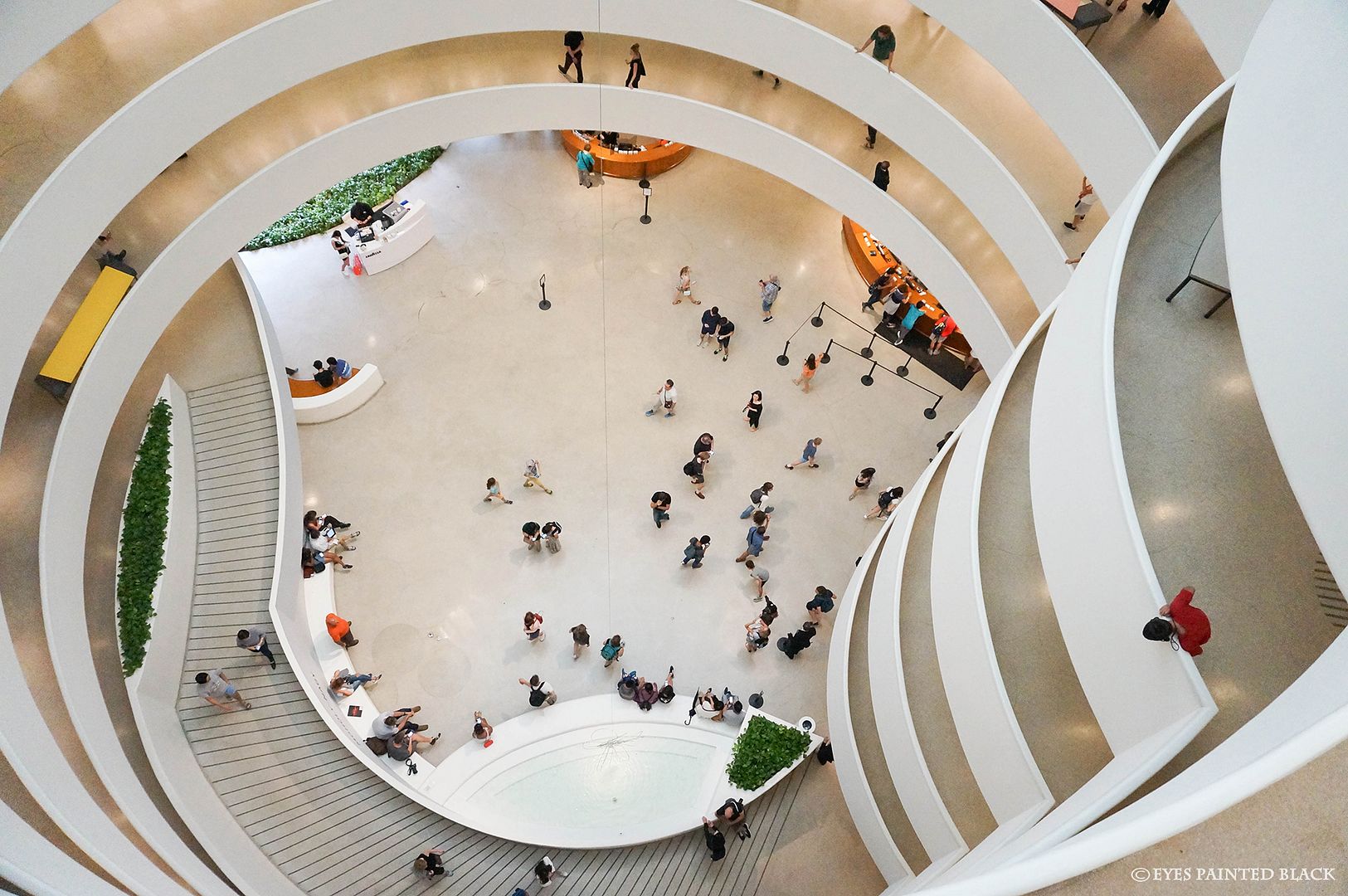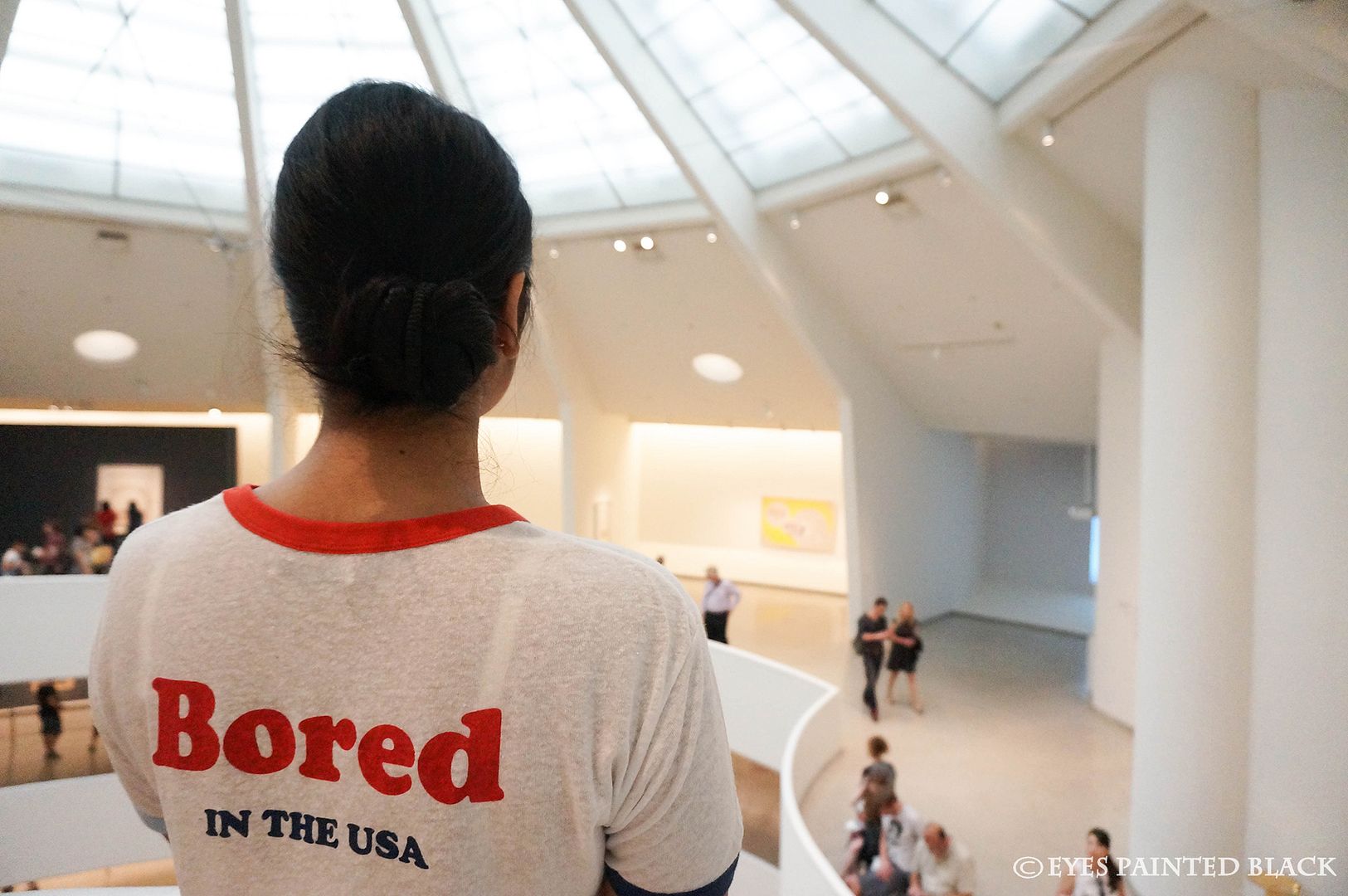 We still did spend hours in the Guggenheim Museum. I tried to learn as much as I could about the art works that I did find interesting. They also showed impressionistic and cubist art works, so that was pretty cool too! I especially love the shirt my sister was wearing btw! How ironic.
Besides fully discovering Queens, we wanted to see loads of the other boroughs... so we knew we were going to be dependent of the train! I really like
the public transport
... no, scratch that. I like the trains.
I freaking hate those damned busses.
The busses in Queens are never on time. Not ever. I once waited an hour for a damn bus to show. I am never doing that again in my life. Anywho, the trains are wonderful. They show up on time and they get you where you need to go relatively fast for a very inexpensive price (in comparison to public transport in the Netherlands and even Belgium). I really loved the
Grand Central Terminal.
It was beautiful walking in.. then down to the food court. Just amazing. The only down side to traveling with public transport (and GCT) is the constant reminder of possible terrorism threats. It keeps being pushed in your face. That we are not living in a "safe" world. Kind of a bummer.
Oh, well. Here are more pictures of gorgeous brownstones in Downtown and Uptown Manhattan. Then there's also the famous Naked Cowboy who was on his turf on Times Square. Funny story, I actually heard people fighting over turf. That was kind of amusing. We also went to see a musical on Broadway a few blocks away: "Fun Home". It was amazing. It will end soon, so do go if you want to. I definitely recommend it. I realized I did not take any pictures of Sephora or other shopping places I visited. I guess I was too busy rushing inside haha. There are a shitloads of Sephora's in Manhattan. We even visited three in a freaking day trying to find the right product to gift a cousin of ours. Luckily, everything is do-able by foot in Manhattan.. it is just that damn heat.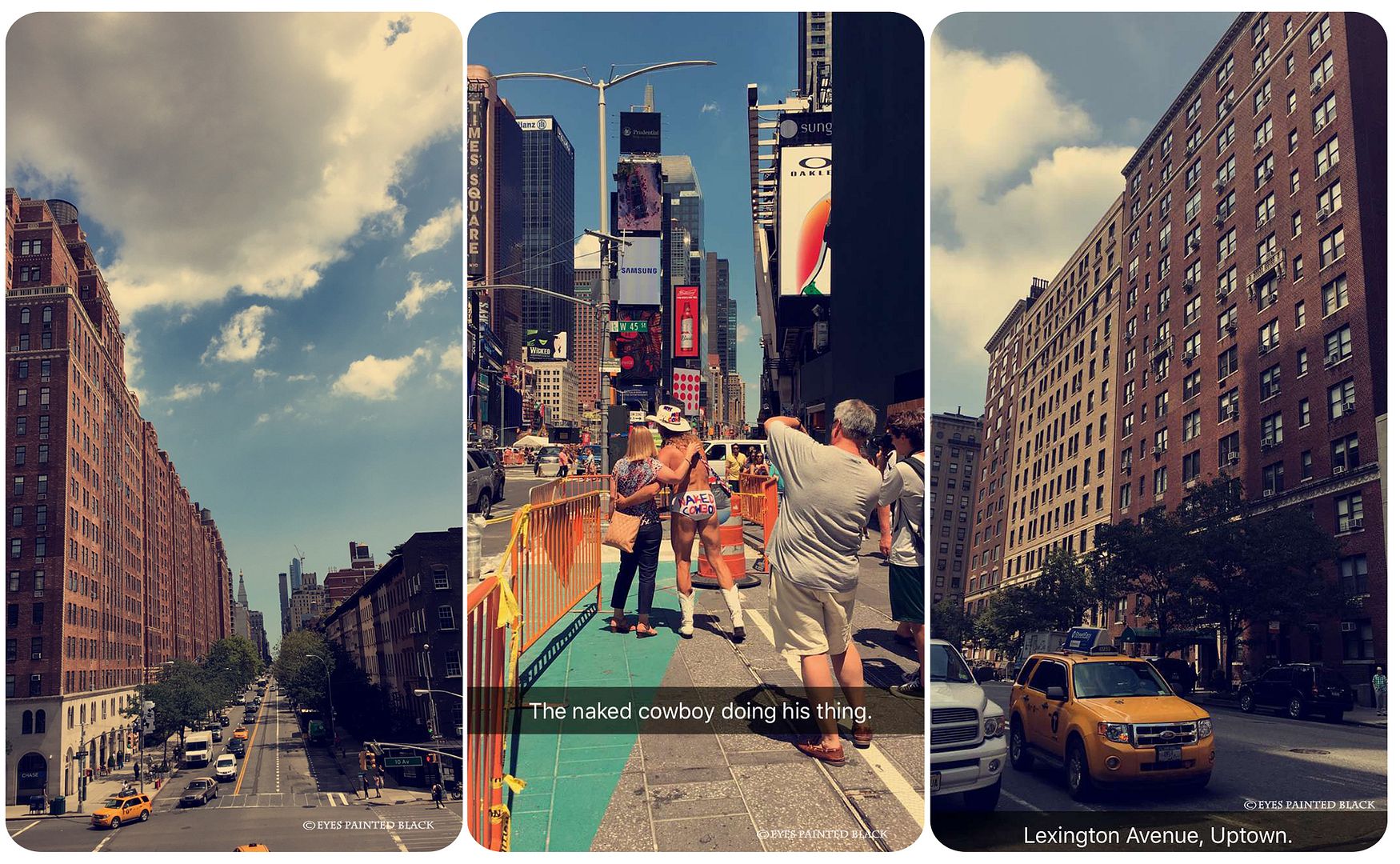 WEDDING TIME
Well, the whole reason for returning to New York City was the wedding of my cousin. She decided to do both
a Hindu and Christian wedding
. The groom's parents are Christian and hers are Hindu, so we had a lot of celebrating to do. The wedding took up
five whole days
. Yup, you read that right.. five days! If you followed me on snapchat then you got the see the most of it! The first day was the
Mehendi
, which means the bride gets henna done on her hands and feet. She also got a henna artist for her guests, and so I got some henna done too (click to enlarge the pictures):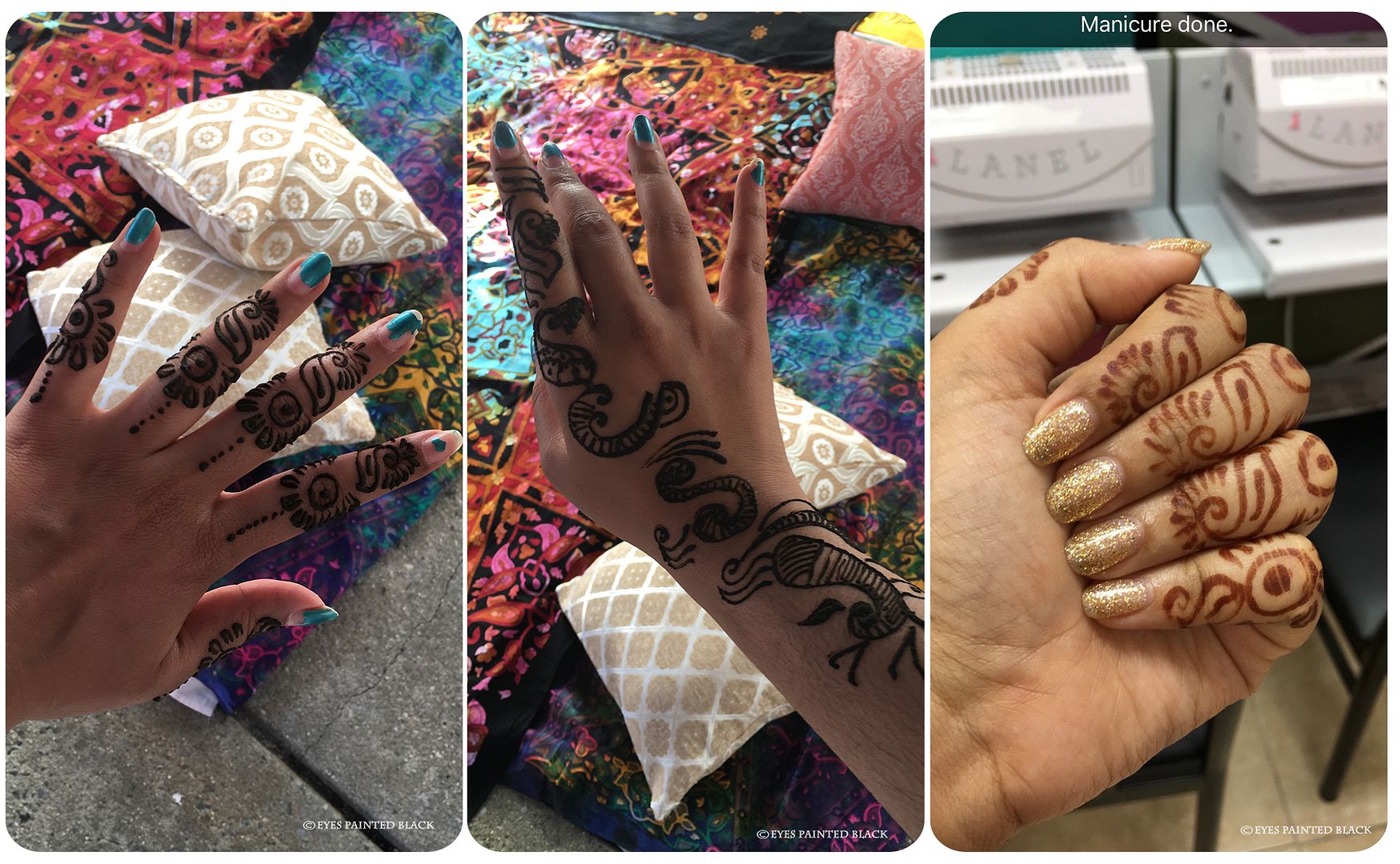 Because I wanted my nails to look pretty and for them to match my Indian dress, I decided to get a
manicure
the following day. I went for golden sparkles. I love it so freaking much!! What do you think? The second day was the
Maticoor
, which consisted of religious rituals and a lot of dancing at night. The third day was the
Hindu wedding
at a Mandir (temple), the fourth day was the
Christian
wedding and
reception
at a super fancy location in Long Island! Then the last day was the
Gosai
(spelling?). Traditionally it is the day when everyone is allowed to eat meat again after fasting those previous days... but that's not how it went for me, ha.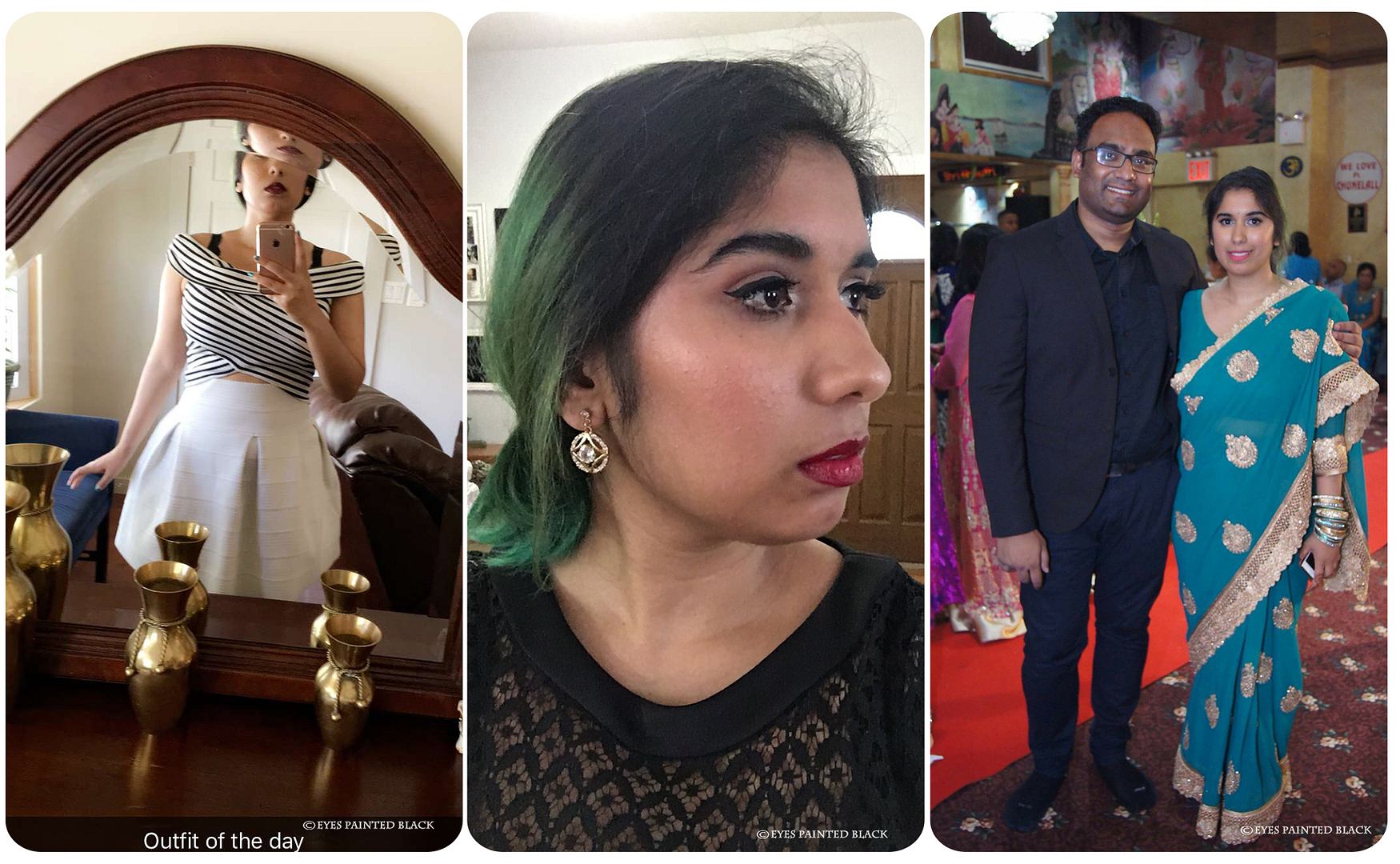 The picture on the left above is my outfit for Day 1. Now that I am thinking about it... not a smart choice to wear white when henna is being applied, ha. Luckily, no harm was done to the skirt. The second picture was my hair and dead-tired face on the fourth day. So damn tired. The third picture is me with my cousin on the third day. I am wearing a traditional Indian dress:
a sari
. Unfortunately the folds came apart by then, but I still like the picture. After the wedding was over I needed to sleep a whole day to be rested again. I tried doing things but I kept falling asleep! Once I was well-rested, we did some minor and last-minute shopping... before we had to fly back to the Netherlands. Awwww. It was sad. It is always sad. It is even sadder, because now all that I have are exams and deadlines.. and only the memory of NYC and Boston.
Oh well, it is better than not having the memory, right? I absolutely loved my summer holiday. What about you? Where did you go to? And what was your favorite part of it?