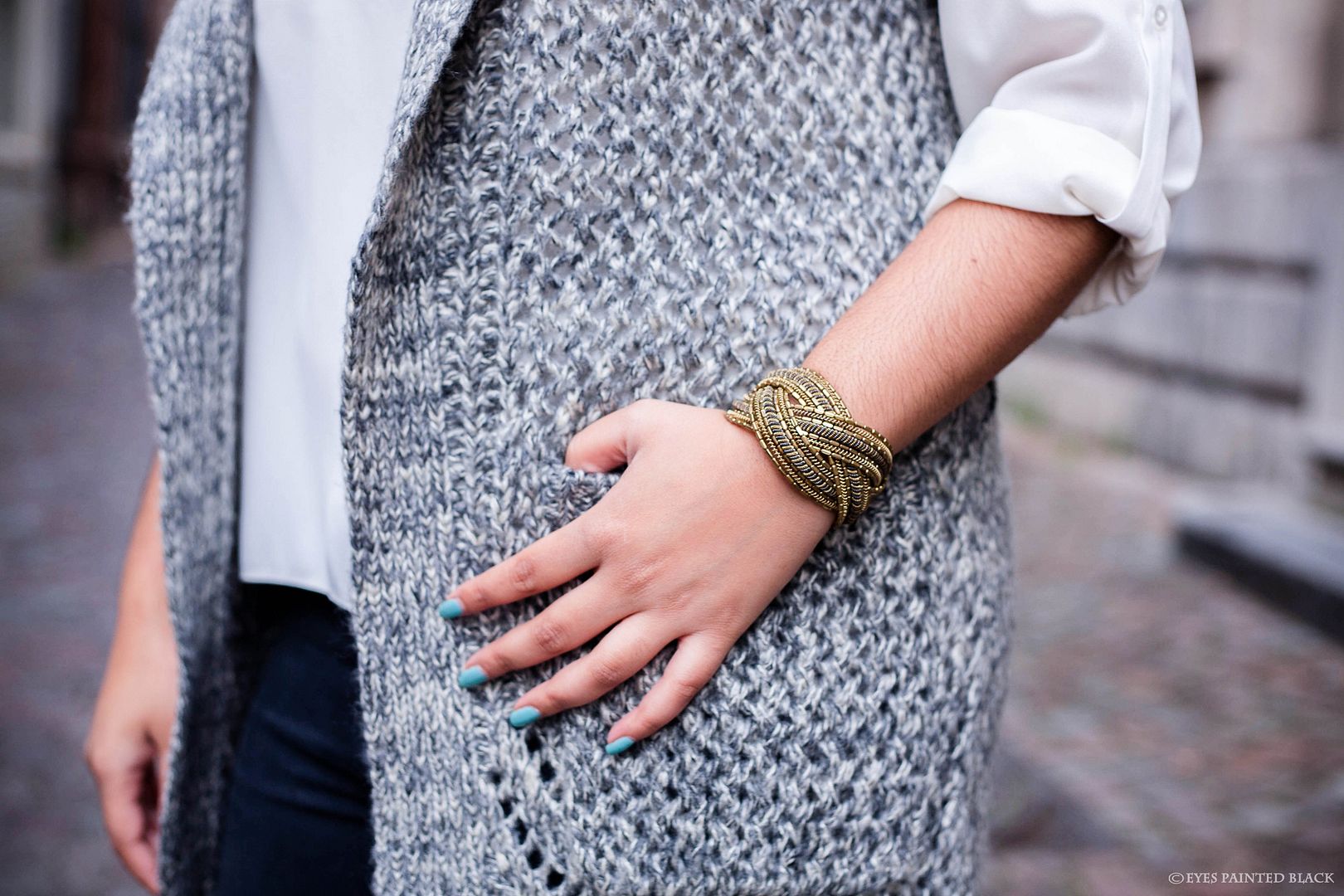 When sweater weather was still in full swing and I did not need a jacket yet, I wore this long comfortable grey sweater a lot! I bought it together with my
white waterfall sweater
at Forever 21, and have been loving both items so much, which is why I am sharing it with you today.
I'm not sure if you have noticed it from other posts, but I got a haircut! It has gone back to a short bob just the way I like it. This haircut seems to be .... really me! I used to have really long hair growing up as a child and I was not allowed to cut it short, so when I turned 14 and was finally allowed to cut it (a bit shorter) I did.. and then at 18 I went for a short bob.. and it felt like
FREEDOM
. My hair always feels lighter, fresher, and for me it feels oh-so
liberating
when I get my hair cut down to a short bob. Any who, time to take a look at the outfit!
Cardigan: Forever 21 - Scarf & Jeans: H&M - Blouse: Primark - Crossbody Bag & Bracelet: Sfera - Shoes: Converse
I am wearing simple black jeans, my favorite low black converse,
my new blouse from Primark
and the new sweater I mentioned above! The sweater actually has a hood, which I like. It just makes it seem cozier and more comfortable. It really is a simple outfit with basic colors (grey, white and black), but it looks quite nice - if I say so myself. I think the blouse makes it look a bit classier even if most items are quite casual! As always, I run out with
my trustworthy crossbody bag
, currently from Sfera!
Side note
: Click to enlarge the photo. I tend to avoid just putting a single photo of myself in there, because those feels
so huuuuuge
, but these seem kind of compressed and small. So, if you want a closer look, just click on the picture.
I have been wearing a lot of pink, purple and brown on my eyes and lips I realized the other day. This time it was no different. I used the
Naked 3 palette by Urban Decay
to create a darkish look on my eyes and I wore my new Hema lip pencil on my lips. Right now I am actually looking at the picture above and
I am wondering if there is a type of necklace that would go along with it nicely?
I own loads of necklaces, but never know how to really combine those with my shirts. They never seem to fit to me, anyways. That is why I usually opt for rings, earrings, and bracelets (even though bracelets can be annoying).
I will definitely take suggestions! Tell me how you pair your necklaces?!
As previously mentioned, I have been wearing this sweater a lot! This was my classiest look, all the others are even more casual and comfortable (at times also more colorful).
I hope you like it!
Pictures taken by
Annebeth
.