I'm not sure what it is like on your end, but it has become really dark real fast over here. Though the temperatures are still pretty high, it is starting to look more like winter. And with the winter coming, we can also expect some winter blues. Now Skiny Bodywear has kept that in mind and gave me two pretty accessories to help battle those darn winter blues!
You may remember Skiny Body from my post
about how I spend most of my days: in
comfortable lounge wear
, yay thesis time. I received a sleeping mask with
a kitty look
(super cute!!!) that will go wonderfully with my grey lounge pants and vest, so if I ever need to take a nap during the day -because reading makes one tired quite easily- then I can now wear these
matching sleeping mask
! More realistically (I avoid daytime naps) would be me wearing it in the evening when my boyfriend wants to do some bedtime reading and the lights are still on. We also have curtains that do let some daylight through, so if I want to avoid all light and wake up feeling more refreshed, then this sleeping mask will be my new go-to accessory!
Surely sleeping well is one of the most important things to battling the winter blues -and just feeling good in general- so let's hope my sleeping mask will help! Besides sleeping well, one needs to be able to focus during the day and feel energized when a good night's rest doesn't do the trick completely. This is where a cool and sleek coffee mug for on the go comes in! This pretty black travel mug is not only cool because it has cute writing on it ("Life Happens, Coffee Helps"), but also because it has an isolation mug that will ensure your hot drink stays at the right temperature for a longer period than a regular travel mug would! To get access to your beverage you need to slide open the opening at the top, so your drink will not spill out easily. I'm pretty much loving this travel mug!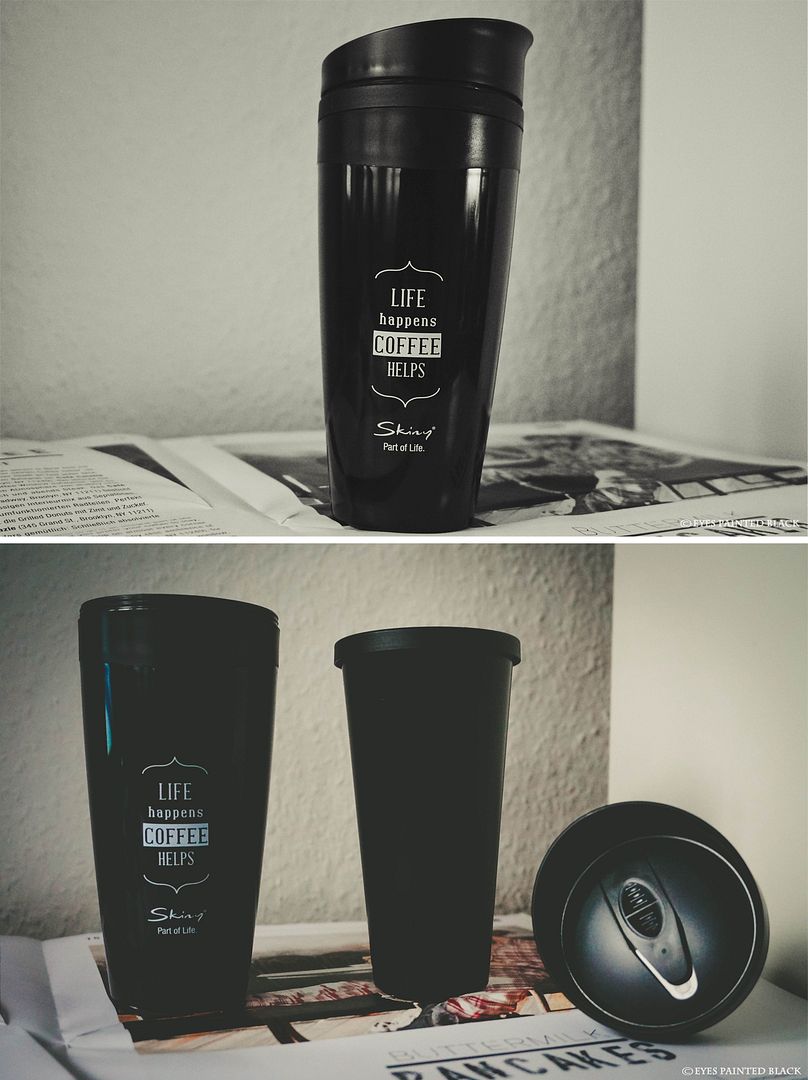 With a little help at night and a bit of help during the day I think I am making a great start with my battle against the winter blues! The
cute kitty sleeping mask
is part of the
Sleep & Dream collection
, comes in one size and costs €12,99. I also noticed that Skiny Accessories offers really pretty makeup bags! Not sure how that will help me battle my winter blues though, ha!
Do you have any sleep/day-time regimens that you will be implementing to stay fit and energized during the winter? How do you battle the winter blues?
This product was given to me by a company or PR-agency. Please read my disclaimer.