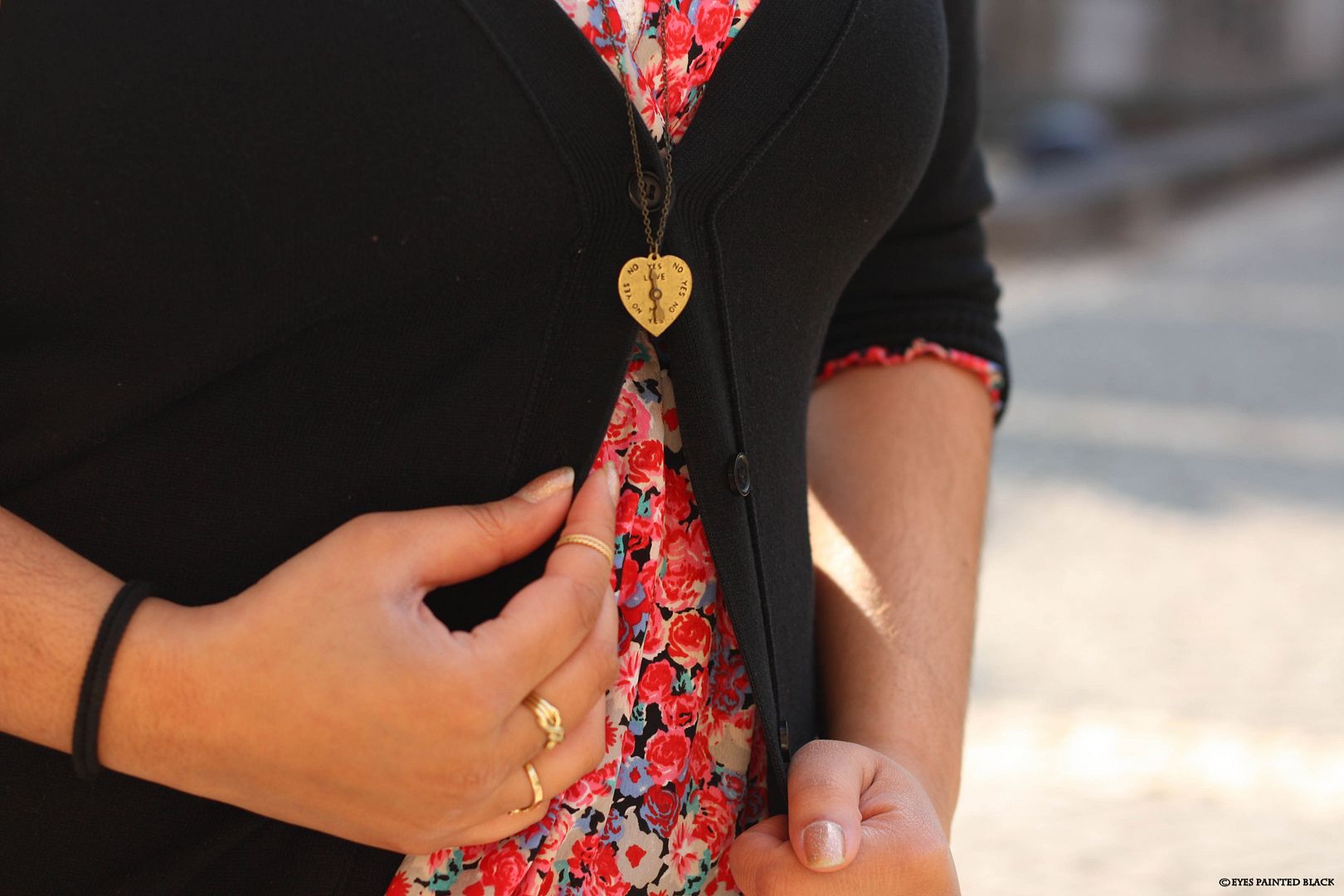 We have been experiencing a lot of changeable weather the last week. Luckily, there have also been really warm and sunny days for springtime. Spring weather makes me happier and I often want to wear my floral dresses. I do not have many, but this is an outfit I do like to wear.
Heck, I like this outfit so much I wear it in colder seasons too with warm tights on. It works. Ha. I do not dress up very often and I certainly do not wear heels very often. I used to love to wear these boots in the Netherlands, but walking a whole day in them in Belgium is near impossible for me. So I save it for specific occasions. My
crossbody bag
is one I typically wear and looks pretty worn out. I shall keep wearing it until it is time to buy a new "everyday crossbody bag".
The upcoming weeks, or well months, will be filled with deadlines and exams, and the only thing I will be wearing then is lounge wear unless I am forced to go outside to take an exam.. then I will look like
a zombie with regular clothing on
. However, I have said to myself that I will try to look at least somewhat alive for my first exam.. see if I can manage that.. and wear some makeup, ha! Do you look like a zombie too when taking exams?
Leather Jacket: Stradivarius - Scarf: Pieces - Vest, Sunglasses & Top: H&M - Floral Dress: Vila Clothes - Boots: Invito - Crossbody Bag: Accessorize - Necklace: Urban Outfitters - Knuckle Rings: New Look
Anywho, I am wearing my favorite leather jacket. I think I bought it in Madrid in 2010. I like that it matches with the boots too, but that was just coincidence, because I rarely look for things to match when I am buying it. I really love the necklace too. My boyfriend bought it for me a long time ago and you can spin the arrow and it will say whether you are loved/you love someone?! It is cute, right? I always put it on "yes".

Oh,

Eyes Painted Black

is turning 2 next week.. so keep your eyes peeled on the blog for some goodies. Enjoy your weekend!



Pictures taken by

Annebeth

.