There are so many great things about living in Antwerp. I really love this city. When spring and summer come around (basically, the sun is out) lots of activities can be expected. Last weekend was no different.. Barrio Cantina, a Belgian food truck festival, came to Antwerp! Yay!! I was looking forward to this so much...
Have you noticed that food trucks have become really hip these last couple of years? I mean, back when I was a kid the only food truck I would come into contact with was when buying Vietnamese lumpias/spring rolls (yummy!). Nowadays, you see all kinds of fancy food trucks serving all kinds of foods! Barrio Cantina is a great platform to try new meals and look at the wonderful food trucks and the people behind it. You do not have to pay for entrance.. you just pay for what you want to eat or drink! It is a great concept, hm?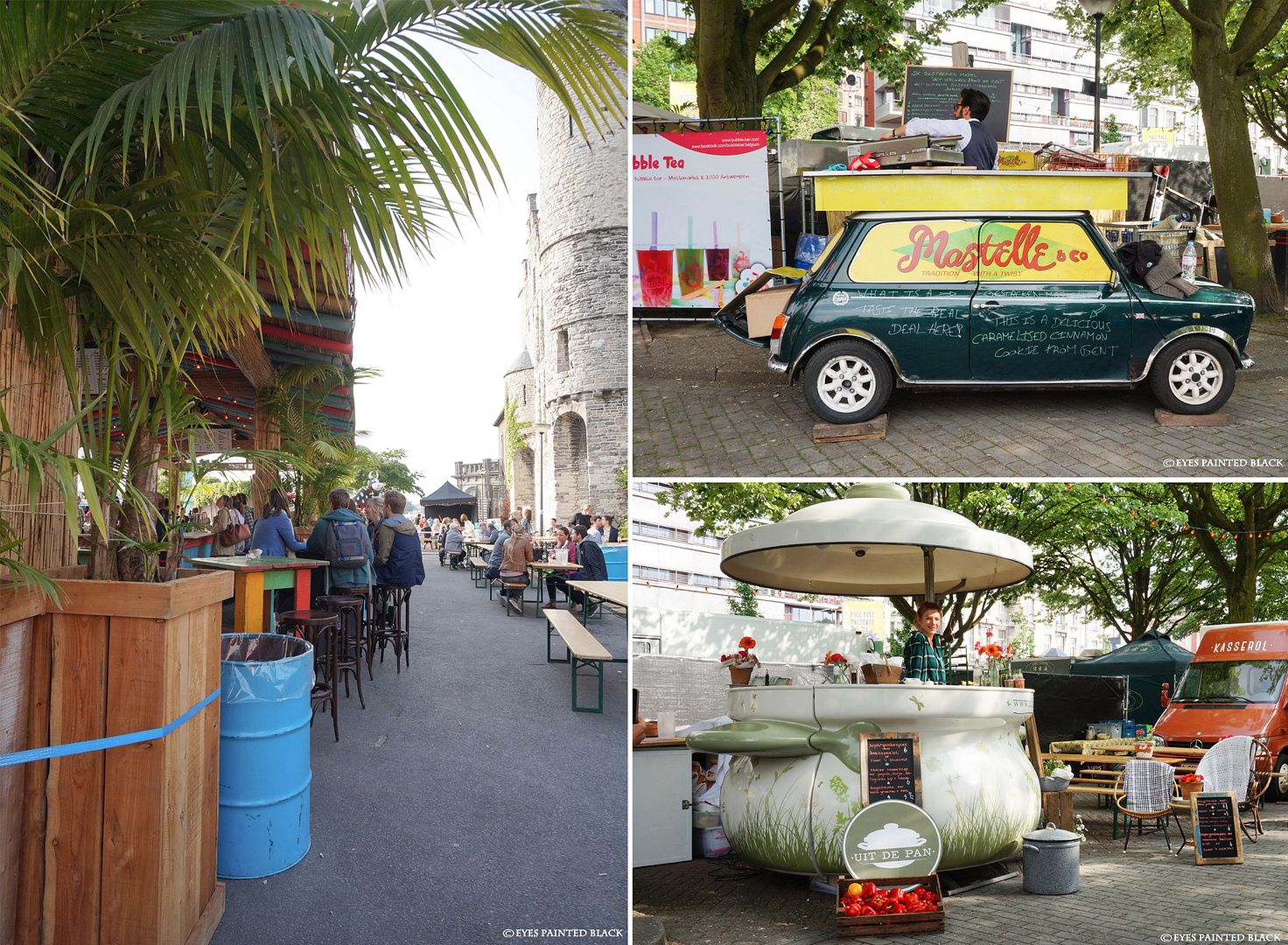 In Antwerp there were 49 food trucks serving pretty much anything you can imagine: typical Belgian snacks, Indian dishes, teas, cocktails, soups, waffles, crepes, lots of hotdogs, bubble tea, sushi, bugs (!!), tacos, burgers, spring rolls.. so much to choose from.. with dishes from countries all over the world! Not only was there a lot of choice, but the food trucks were amazing to look at. They had the coolest and most creative designs.. take a look at "Uit de Pan" (= Out of the Pan)! How cute is that? Or look at the cute small car and all the cooking plates that guy is working with. Man, you cannot be claustrophobic!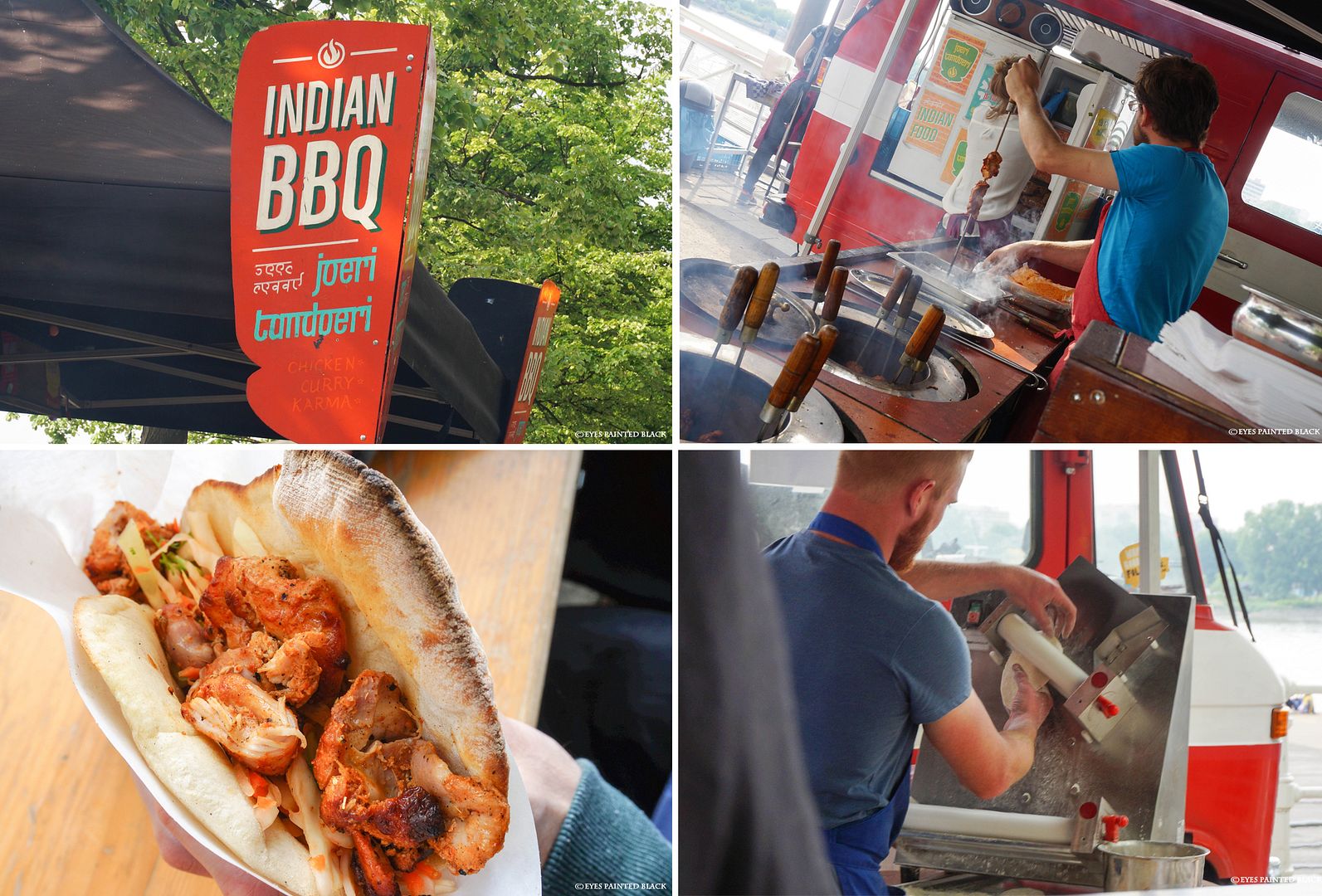 As always, when I go out to eat to a restaurant or a place with a website, I will check out the website and try to find their menu. I like being prepared.. I like looking at the options beforehand.. so I can live towards it. Is that weird?! I did the same for Barrio Cantina and I came across a couple of food trucks I knew I wanted to try for sure:
Joeri Tandoeri
was one of them. A Dutch guy with a love for Indian cuisine. I was skeptic.. because Indian food is very spicy and does not always appeal to the Dutch.. so I was wondering how he would combine the two. I was really pleased with the Chicken Tandoori and Naan that I bought. The different dishes were made on the spot from scratch and you could see it all. On the picture above, right under, you see a guy making the naan! How great is that? I can only hope Joeri Tandoeri will be coming back to Antwerp soon!
Yum yum yum.
It was a bit too warm for me to get some tea, and I am not a fan of ice tea, but I had to mention this pretty food truck, anyways. Thees always looks great and cute and I look forward to trying their tea someday soon! I mean "Evergreen" sounds delicious. I love lemon, so bring it on!
You could also buy these super cute and super yummy waffles from
Ons Lucy
! I call that smart thinking.. it is way easier to eat a waffle shaped like this than holding it in your hands.. and getting all dirty and messy. Yup! I love this! Bubble Tea is not for everyone, but I am certainly a fan! The
Bubble Bar
serves the yummiest bubble teas too.. and I came back on the last day just to get one and I was not disappointed! Have you ever tried one?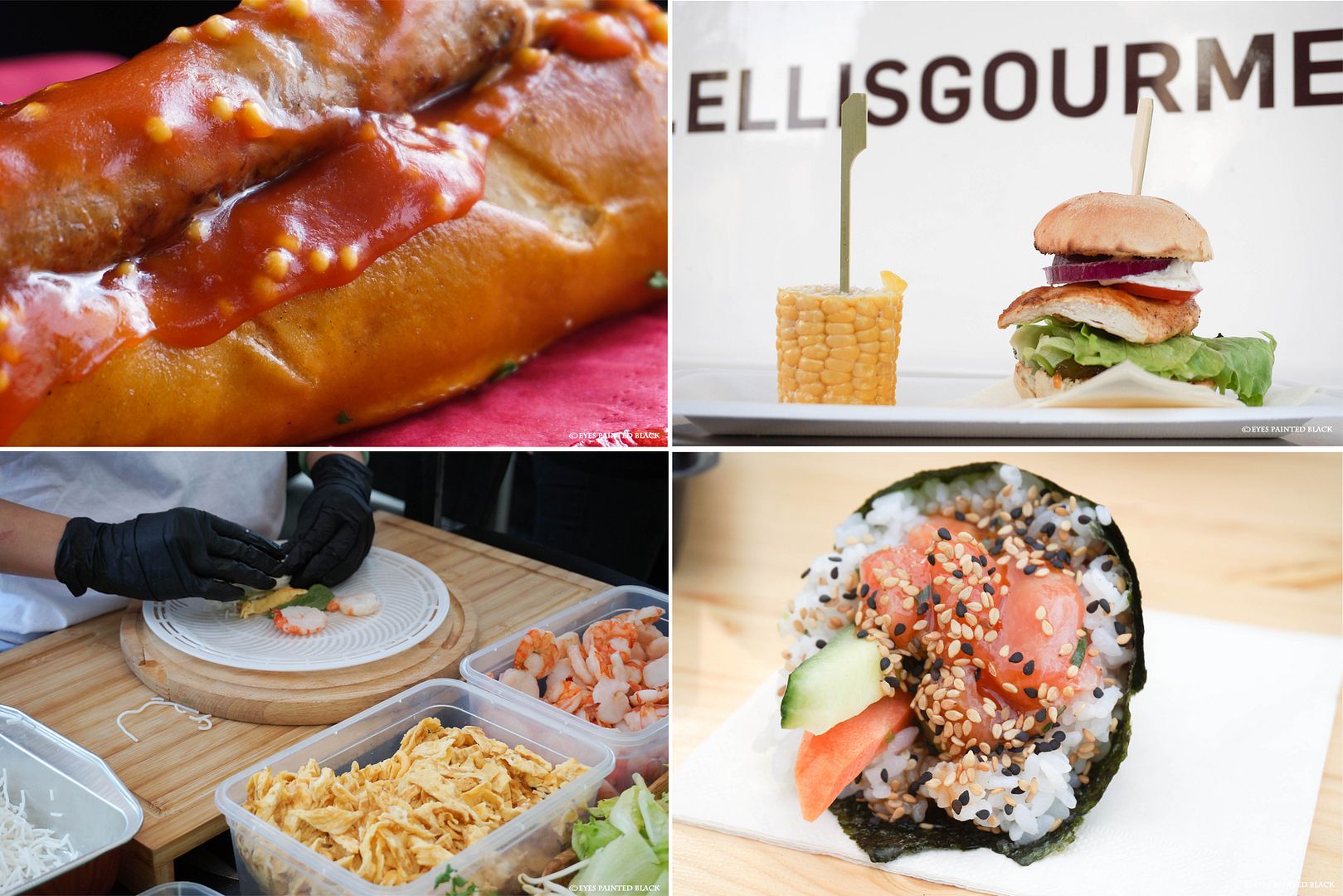 There were a couple of burgers to be found, but I went to the Ellis Gourmet Burgers food truck, because they had a burger that sounded yummy. The Bollywood burger? It came with sugar-coated corn. I thought the burger was a bit on the small side.. but honestly, I thought that of every meal I tried. Nothing will be enough, huh. Haha. Ever heard that a girl's dream is not to find the love of her life... but eating whatever she wants without getting fat? ;-)
My favorite out of all the different food truck dishes I tried.. was definitely the
Old Skool Chicken Curry
from Mission Masala. This was another food truck that I looked forward to trying.. and it sure did not disappoint. The Indian lady behind
Mission Masala
was very kind (and beautiful) and she explained what she had put in the dish. It was a treat to try and certainly not enough. I wanted more!! It tasted like Indian food (perhaps, a bit toned down.. but that is understandable), but she added some chilis in there, and yoghurt to cool down the spices for those who thought it was too hot. Smart thinking on her part. I just hope Mission Masala will be back in Antwerp soon.. because I want more! Well, that is how I experienced Barrio Cantina this year. I tried lots of Indian food, I had some snacks, the yummiest Nutella crepe, and I enjoyed me some sweet bubble tea. I stayed as far away as possible from the bug meals.
Yikes
. If you are interested in this festival too, then check out
the website
.
Barrio Cantina is coming back to Antwerp in September
, so if you missed it this time.. that will be your chance to try it out!
What would you like to try? And do you think food trucks are hip too?