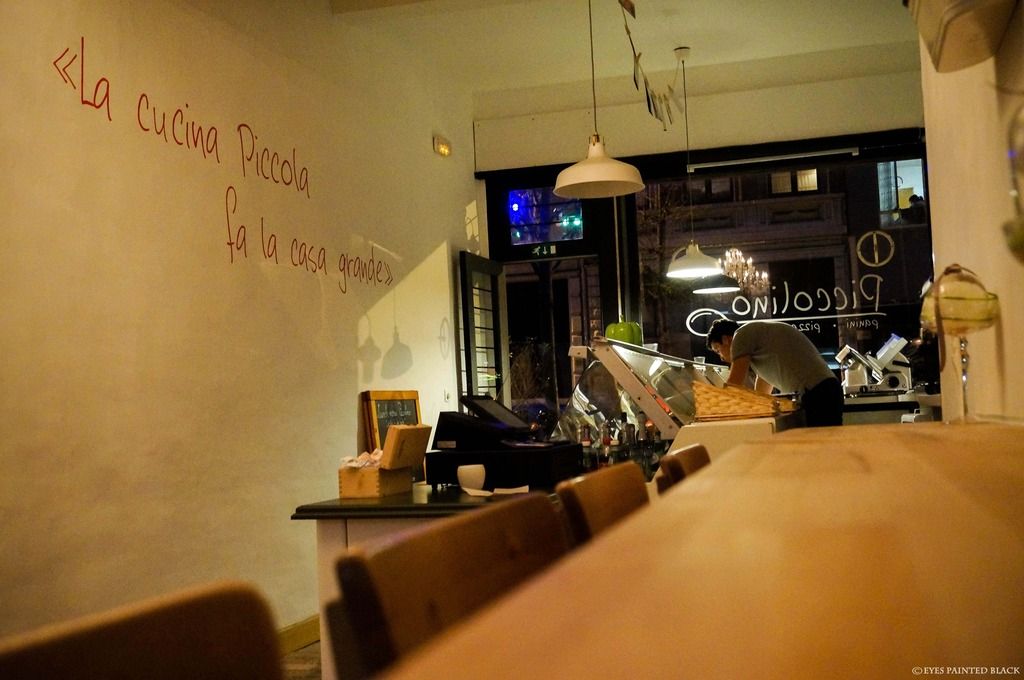 Since the end of February you can find the Italian sandwich bar and restaurant Piccolino, located in the trendy Zuid in Antwerp! If you are looking for a healthy and inexpensive sandwich on the go or want to try out more exclusive southern-Italian products in an intimate setting, then you should read more.
The name Piccolino is inspired by
the famous Italian saying: "
La cucina Piccola fa la casa grandes
". This means that a small kitchen makes a big home and these are words the manager Francesco Nigro tries to live by. He has decorated the restaurant with pictures of himself and his family, taken his childhood, and tries to give it a real authentic southern-Italian feel.
Upon entering there is a deli with cold cuts, cheeses, a variety of vegetables, and more good stuff. You can order freshly made cold sandwiches and warm panini's or select your mixed starter plate if you choose to dine in the restaurant. You can just order it on the go or take a seat near the bar and enjoy your meal. It has a very relaxed atmosphere. The sandwiches and panini's are about €3-4, which is very reasonable for what you get. Here is an example: their club sandwich consists of smoked ham, cheese, rocket lettuce, egg and tomato!
What is so special about Piccolino is that some of the products used in the sandwich bar and restaurant are imported from La Sila, which is located in Calabria, southern Italy (where Francesco also comes from). The other products comes from suppliers who offer more exclusive merchandise. I mean, even the water comes in a bottle with Italian writing on it. You will not find a regular "Spa" bottle here! My boyfriend and I tried the mixed platter, so we could try all the different cheeses and cold cuts (ham, salami, etc) that Francesco was raving about. He was quite right to be so enthusiastic. The different cheeses all tasted so different, going from more sharp flavors to softer ones. The mixed plate also had grilled vegetables, such as zucchini. Oh, the combination of sun-dried tomato with those cheeses... yummy!
Then it was time for our main courses. We both chose a pasta dish. My boyfriend went for spaghetti with minced meat made of beef, veal and pork. I tried linguine with scampi and a tomato-based sauce. It was really yummy. I had never eaten scampis with pasta like this so it was a nice change. We got grated cheese on the side to add to our dishes and some bread. The tomato sauce and grated cheese went really well together. After the big starter I was not able to finish my main course though, ha! My boyfriend was able to finish his, but could no longer finish mine. That is one of his roles when we go out to eat.. finishing my meals, otherwise I doggy bag it. Yes, I am making up verbs. I mean I took the leftovers home with me. That is another service Piccolino offers. If you do not feel like eating in small and intimate setting outside of your home, then you can always order the meals to take away.
When eating out, I am a sucker for desserts. This is the one time I like to enjoy sweet things (or, well, when it is my time of the month), but I was still so full after my main course that my boyfriend and I chose to share a fresh dessert. We chose lemon ice cream and we told Nathalie, our friendly hostess, to keep it simple.. and so she did. I thought the presentation of the lemon ice cream was really fun and refreshing! They served it to us in the peel/skin of one big-ass lemon and it was delicious. The perfect end to a filling and satisfying evening.
Just like restaurant, the menu is not very big, but it has something for everyone. The menu clearly divides its meals in meat, fish and vegetarian dishes. Besides pasta, Piccolino also offers pizzas. It seems that there are healthy alternatives for those who are dieting too, because the restaurant is collaborating with Weight Watchers. What that exactly entails.. well, I guess there is only one way to find out, right?! The prices of the restaurant are very reasonable too. The main courses cost between
€8-15
and I do not believe you will go home with an empty stomach. If anything, you will be going home with doggy bags, because you get a lot of food!
Now that is good business.
My boyfriend is really excited about
Piccolino
and so am I, so we will definitely be returning to try their pizzas next! You can find this cozy southern-Italian sandwich bar and restaurant in the
Verschansingstraat 39
in Antwerp! Fore more contact information go
here
.
What do you think of Piccolino? Worth a visit?! And do you prefer pasta of pizza?