Brand spanking new is the hip donuts and coffee place called Culture Coffee found in the heart of Antwerpen. It opened its doors last Saturday and offered its first visitors a free donut from their own bakery. I just knew I had to visit this place and share it with you all.
Culture Coffee actually started out as a coffee-roasting factory created by two friends with a love for coffee. That is why you will not just be able to drink coffee and try freshly made donuts, but you can also buy coffee beans and accessories at Culture Coffee. That is quite convenient after having tried a coffee you like, you can go and buy the beans to make it at home yourself.
The coffee bar is really big, so you need not worry about finding yourself a place because there is a lot to choose from. You can sit by the windows, you can sit on a realllllly long table, then there are some separate tables and lounge areas with nice comfy chairs. Guess where I sat down?
Upon arrival you can order your donut (or other pleasures) and drinks by the bar, then you can just take a seat at your desired place whilst they prepare your drinks. Besides fresh donuts, Culture Coffee also offers baskets filled with croissants, muffins and other sweetness. If you are not much of
a sweet tooth
(like me) then you can also enjoy sandwiches and meals. The sandwiches look really good, because they offer a variety of turkey and chicken combinations.
Finally
! Normally there is only one chicken option that I can choose from (I do not eat other meats besides poultry), so I am really happy to discover they offer several poultry options. You can also enjoy a warm breakfast for about €7-8 with fresh orange juice, eggs, or a healthy variant with greek yoghurt and other good stuff.
In a nutshell, there is plenty of choice!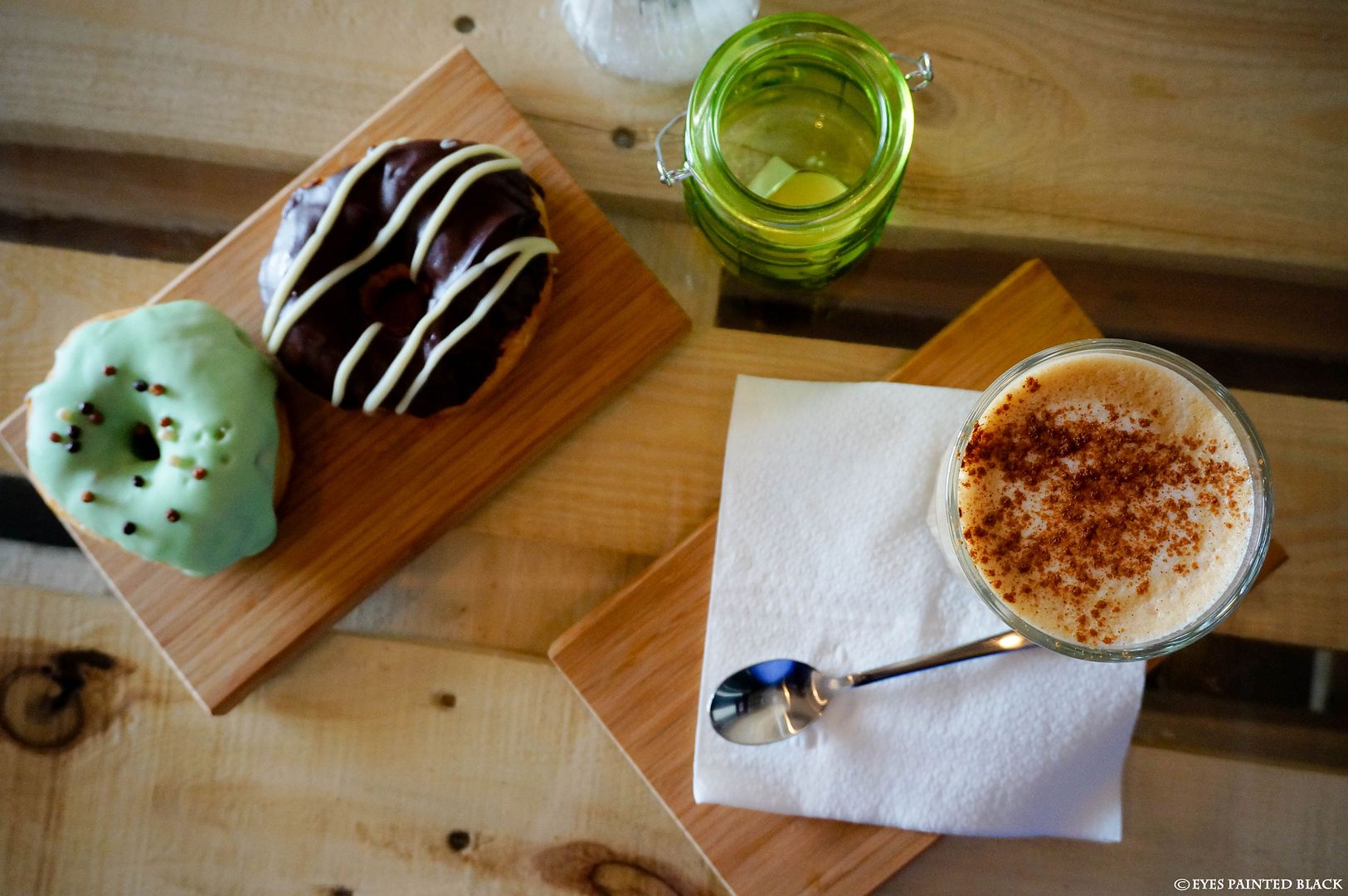 Well, for a first visit I had to try a donut. I got the green one called "
Little Green Monster
" and it was delicious! My boyfriend suggested I'd get the pink one with marshmallows on top, because that was so me (according to him)... then I suggested going for the green one.. much more like me! Oh wait. Thinking about it right now... Little green monster refers to jealousy? Ok. Never mind.
Not me.
I just meant pink is not my color. I rebelled. Ack. Ok, whatever. My boyfriend got the donut with dark chocolate and tiger stripes of white chocolate. I also ordered
a latte flavored with cinnamon
. It was so yummy.. especially my donut. I expected it to be really sweet, but it was not.
It was just right!
The donuts are a bit more heavier than I had imagined, but it ensured you would be full after eating it. At least you will not be having too many donuts that way! Culture Coffee is found in the
Sint-Katelijnevest 52
in Antwerp! The perfect stop for a quick break whilst shopping on the Meir or for lunch during work. For more information
click here
.
What do you think of the combination of coffee and donuts? I'm thinking classic combo!