There is one thing you may not know about me... Ok, who am I kidding. You probably do know this about me. I am a huge couch potato. There is nothing that I love more (sure there is: food) than sitting on the couch or hanging in bed whilst surfing on the Internet or watching
my favorite series
and films. So I figured, why not dedicate an article and outfit to my most natural state?!
Yes, I have always been a couch potato. I blame my father. However, ever since I moved to Belgium and started studying I have been reading non-stop. Whether I want to, or not. So I am not particularly in the mood to dress up so I can spend hours reading a book and fall asleep halfway through. No, thank you. When I was approached to try out a lounge outfit by Skiny Bodywear I thought.. "ehm, yes. I could use more comfortable pants and vests, please" and they seem to have plenty choices.
Skiny Bodywear is the lifestyle underwear brand under the Huber Holding company. It sounds German. Am I right? Oh, err. It is Austrian! My bad. Its aim is to create fit and high-quality materials that are both trendy and wearable to make you look and feel good about yourself at all times. So it does not only offer underwear but also loungewear. When I came across some lounge pants with cute little clouds on them I just knew I had to have them... I mean, they are super adorable! I also picked out a basic shirt, because one can not have enough of those and a vest. I was in need of a comfortable vest to wear at home but outside too. Above you can find my sneak preview.. but here is what I got:
On a random evening my boyfriend caught me red-handed reading another book. I was sitting on my bed, as I often do, comfortably with several pillows and an interesting book in my hand. "East West" by Salman Rushdie I definitely recommend! I was actually happy to do a lounge outfit, because I can finally show you bits and pieces of my bedroom. It is nothing exciting. I have a small bedroom, but everything is made to fit in there exactly. A nice white bed, a nice big white closet, some white and black decoration and blue bed sheets. I always have blue bed sheets, for some reason.
I am just kidding, by the way. If that was not obvious already. My boyfriend did not catch me red-handed, but I was totally pretending to be reading there. Doh. I am sure it looked completely real, yeah?! I still had my earrings in and he said: "well, that is not realistic" so I replied "nor is my makeup"! He was right, though, so I took the earrings out.. not my makeup.. it was not bedtime yet!!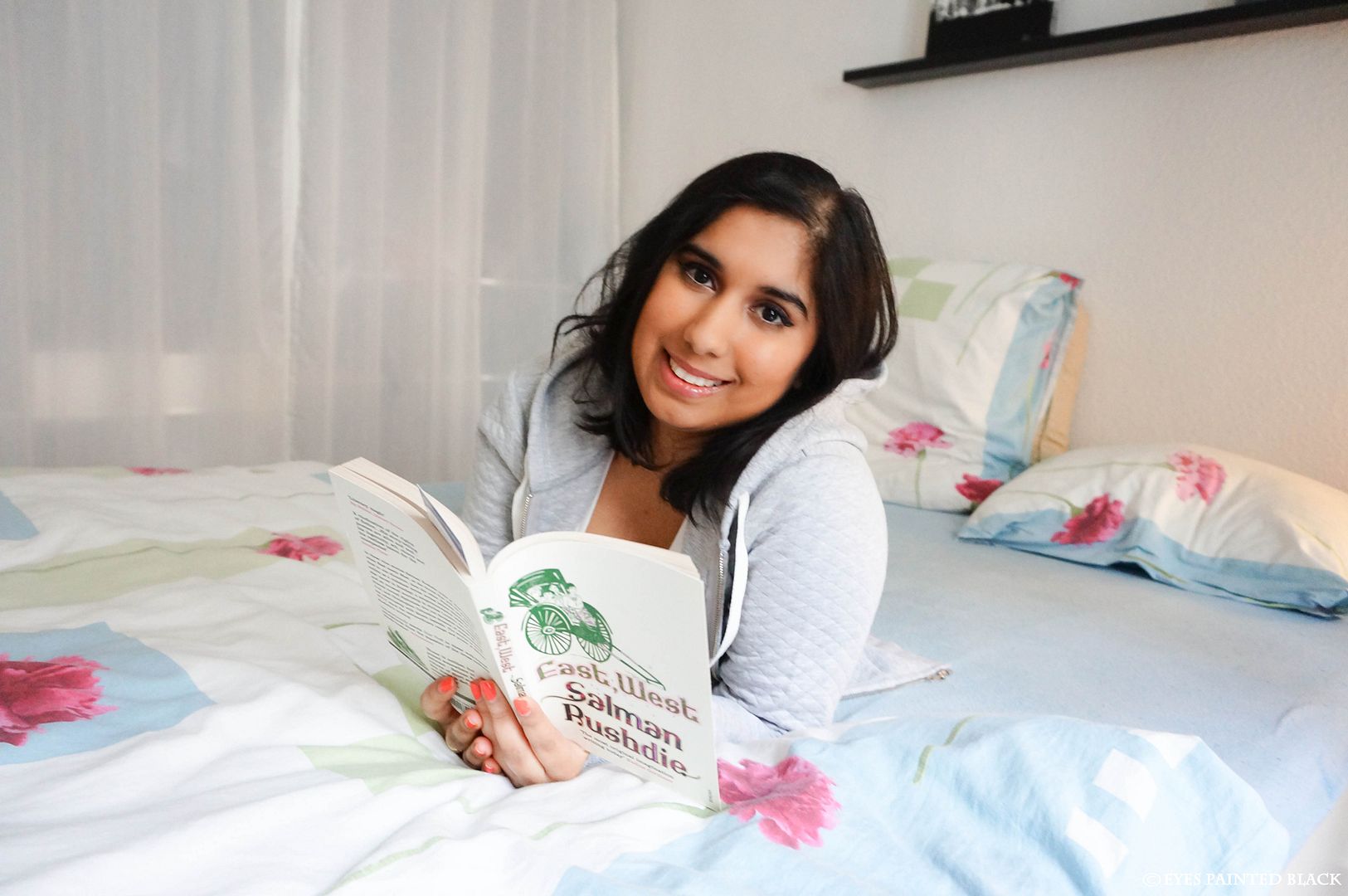 With all the work on my thesis and all the reading I have to do in general.. it is like lounge wear has become my regular choice of clothing... is that a good thing? Haha. Well, as long as it looks nice, is comfortable and I am in the comfort of my own home.. I am a-ok with that! Now that you have seen me in my natural habitat I feel all exposed! it is your turn! What is your natural habitat? When are you at your most comfortable? And how often do you wear lounge outfits? Tell me all about it.. and if you dare, show evidence (you know, pictures!!).
This product was given to me by a company or PR-agency. Please read my disclaimer.