After trying out small and delicious bites from
the Elvea assortment
, I had to think about how to create more tomato-based dishes for myself. I tend to stick to my regular pasta, chicken and tomato sauce with loads of herbs and some vegetables but this time around I wanted to try something different.. so I ended up with poached fish in tomato sauce!
This meal is actually quite easy to make and will not take up too much time either. Win win! It looks golden and red together, but if you want more color to your food you can add a green bell pepper. To make this happen you will need the following ingredients (to serve four):
- flower
- pasta (fettucine)
- 1 table spoon of olive oil
- 1 medium chopped onion
- 4 pieces of white fish filet (codfish)
- 500 gr of passata (strained tomatoes)
- sun dried tomatoes (6-8 pieces)
- 1 yellow bell pepper
- oven dish or oven proof pan
- herbs & spices to taste: basil, chili, black pepper, rosemary, garlic and salt
There are several steps that you have to take in order for this dish to come together. First you have to sear the white fish filet (I specifically chose codfish for this reason). Then you can prepare the pasta sauce. After that you bring together the pasta sauce with the fish and start cooking your pasta. So there are three different steps; here are the details:
Prepare the fish
I like being practical. I did not have a pan that was oven proof, but I did have a sauce pan so I decided to do all my cooking in there. Now I know it may be frowned upon by the professionals, but I want as little washing up afterwards as possible! Once your pan is hot add 1 table spoon of olive oil (you can also use a stir-fry pan) and while the oil is getting hot add flower, paprika powder, chili powder and salt on all sides of the codfish.
Now that the pan and oil is hot enough you put the codfish in the pan and let it sear for less than a minute on both sides. The shorter the better, because you still want the fish to be raw on the inside. The searing is to make sure it gets a nice and crispy exterior.
Gently place the pieces of codfish away. Then grab your already chopped onions and sauté them in the juices of the fish and olive oil until the onions are golden brown. Take out the onions and place them on top of the fish.
Prepare the pasta sauce
Do not remove the juices and oil from the sauce pan (there should only be a bit of it, anyways), but add 500 grams of passata to it. Put the fire to medium. Add all your herbs and spices in there: paprika powder, chili, black pepper, rosemary, basil and a bit of salt. Fresh ones are better, but dried ones will do the trick as well. Now also add the sun dried tomatoes, because these will intensify the flavors. Then let it simmer for about 20-30 minutes. If the sauce starts boiling, then bring down the heat. If you want to thin out the sauce, then you can add some water.
In the mean time, while you are waiting, you still have to do something with your bell pepper. Cut it up into strips then put them on a grill (or in a grill pan). I think this is a healthy way to soften and warm them up a bit, but they will still remain crunchy so you will get another different texture in the pasta dish.
Bring it all together
Now that your sauce is to your liking, you can place the sauce in a shallow oven dish (or keep it in your oven proof pan - surely this will be a frying pan). After the sauce is added to the dish, place the pieces of fish in it. Make sure no sauce reaches the top of the fish, but keep the sautéed onions there so both the top of the fish and the onions will become slightly crunchier. Also add half of your bell peppers in there so they soak up the flavor of the sauce. Now you can place the dish in the oven for about 8-10 minutes on 200 degrees Celsius. The amount of time your fish will need, depends on how short/long you let it sear. Here you need to apply the trial and error methodology, good luck!
Cook your desired amount of pasta according to the instructions on the packing. Once both the fish and pasta are ready, you can serve the dish. A bit of fresh basil on top and the rest of the grilled yellow bell peppers can now be added to your plate. That is it!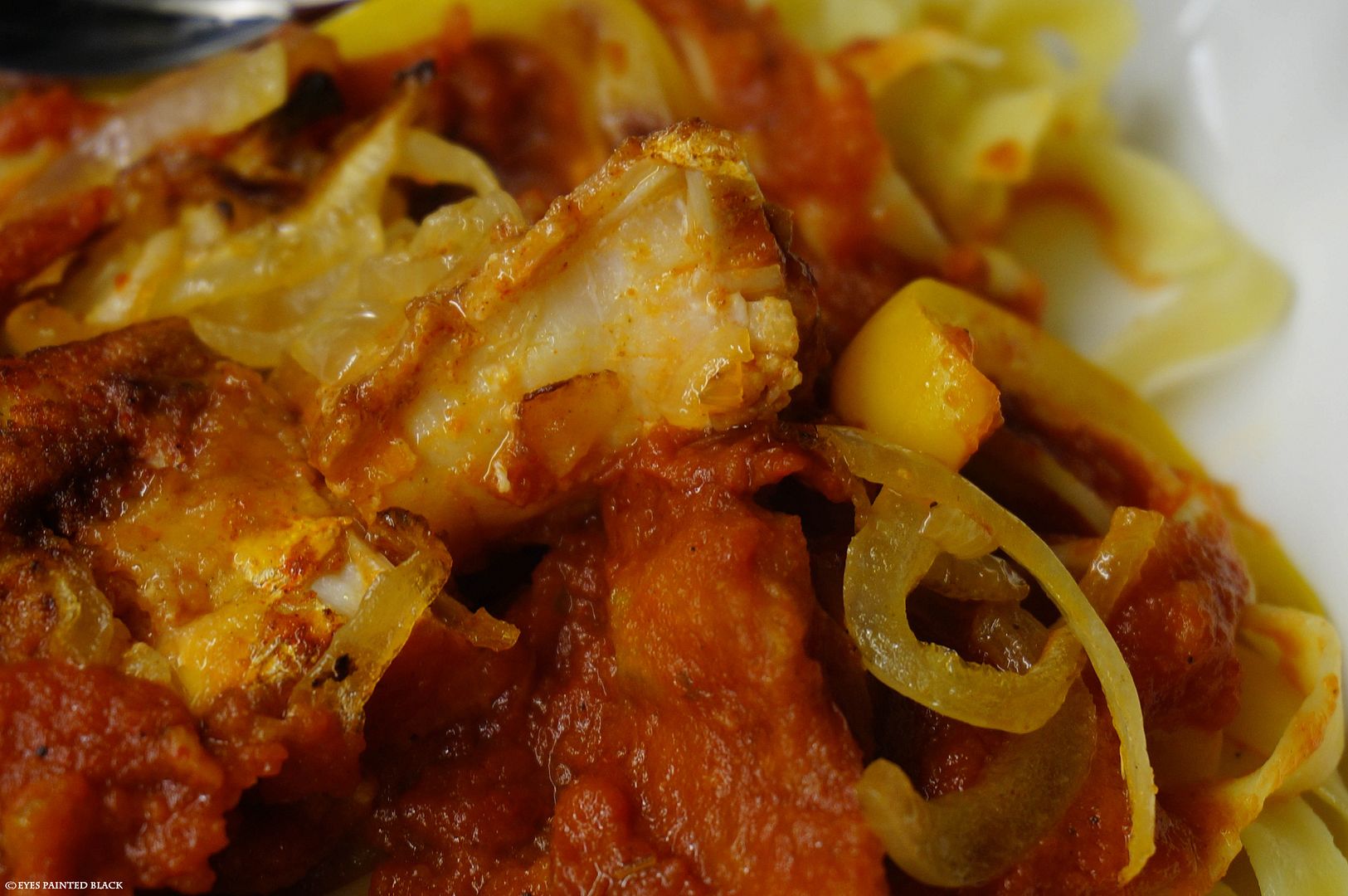 This dish may seem like a lot of work, because there are different elements involved, but once you get the hang of it you will realize that it is pretty easy. Just sear the fish, mix your sauce, boil the pasta, and bring everything together. I really enjoyed preparing and eating this dish, so it is something I will surely be making in the future. What about you? I hope you find this poached fish in tomato sauce recipe interesting enough, and if you have any questions.. feel free to ask!