Yes, I have mentioned that spring is just around the corner and that we should consciously start thinking about the changes we want to make in
our beauty regimen
. However, sunnier days do not necessarily lead to warmer temperatures in Belgium or the Netherlands, so I am still stuck to wearing clothes for autumn (not winter) weather!
Fortunately for me I have no problem with that. I actually enjoy wearing warm, big, comfy sweaters or long and fluffy scarves. Well, wait. Let me take that back. There is one problem! I dress for the weather outside, but when it is colder outside people tend to turn on the heat more on the inside. Once you enter a building you are practically smacked in the face by the warmth causing me to quickly start feeling hot, my couperose will kick in making my face crazy red. You see, that can be a problem.
The situation was not very different when I was wearing this autumn outfit. I put on this really nice and comfy sweater that has
a playful backside
showing off a bit of skin. It is is loose fitting and allows air in, so it is a great piece of clothing when the weather is changing. I combined it with dark blue jeans, my comfortable grey ankle boots with wedges and
some hints of green
. I had actually picked out another bag for this outfit, a grey one, but the zipper broke.. and so I chose my trustworthy brown-grey bag chosen for
school
!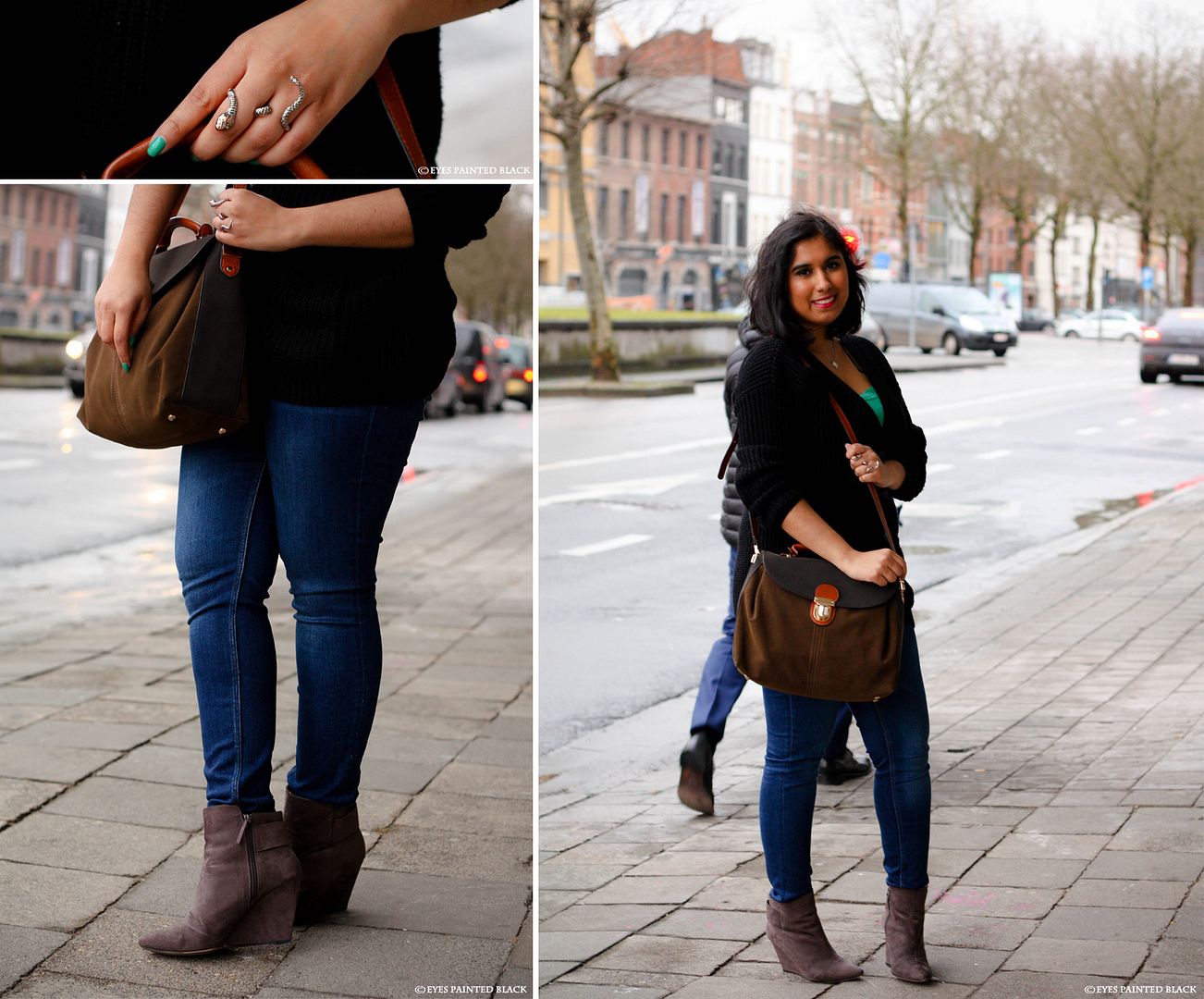 Sweater: Forever 21 - Shirt & Snake Ring: H&M - Jeans & Shoes: Zara Wear - Handbag: Accessorize - Necklace: I.Ma.Gi.N Jewels
We took the pictures on the street when it was raining and really windy, so my hair is looking rather messy but I like that effect.. because my hair never looks the way it should! So the pictures are realistic in that sense, ha ha. I wore my minimalistic silver necklace with the writing "
Make a Wish
", a silver sparkly knuckle ring and my snake ring! I absolutely love my snake ring. It was a great buy! My sister loved it too, so I got one for her as well! Well, I might just be able to wear this outfit a couple of times, before it starts getting really warm.
How do you try to deal with the transition of cold weather outside and a warm temperature inside? Do you wear more layers... or?
Pictures taken by
Annebeth
.