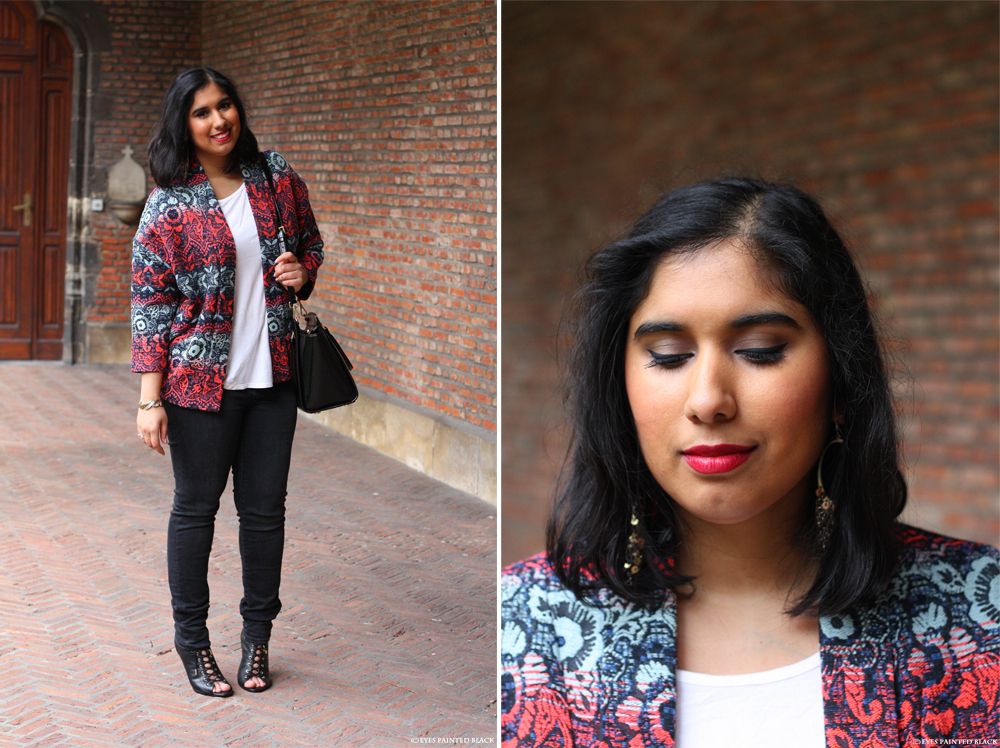 Well, here is an outfit that I have been wanting to share with you for such a long time but I never got around to getting photos of it! After having spent a month in sweatpants, studying in my dark corner, with books and notes surrounding me (this is what I usually do, though) I finally had the opportunity to dress up a bit!.
During the summer of 2014 I added three significant and loved items to my wardrobe, namely my Esprit vest, my Steve Madden shoes and my Selma bag. Over the following months, I have worn my Esprit vest quite a bit! I really love it. It has a jacquard pattern and red lipstick goes so wonderfully well with it. I think I have already peaked at walking around in high heels back when I was 20, because nowadays I can not bear it anymore after a while. Especially not in Belgium with the horrrrrrrrrrrrrrrrible roads: cobble stones. Do not get me wrong, I think the cobble stones add to the romantic feel that Belgium has, but it certainly is not comfortable when wearing heels (or flats).. or when you are driving in a car ha!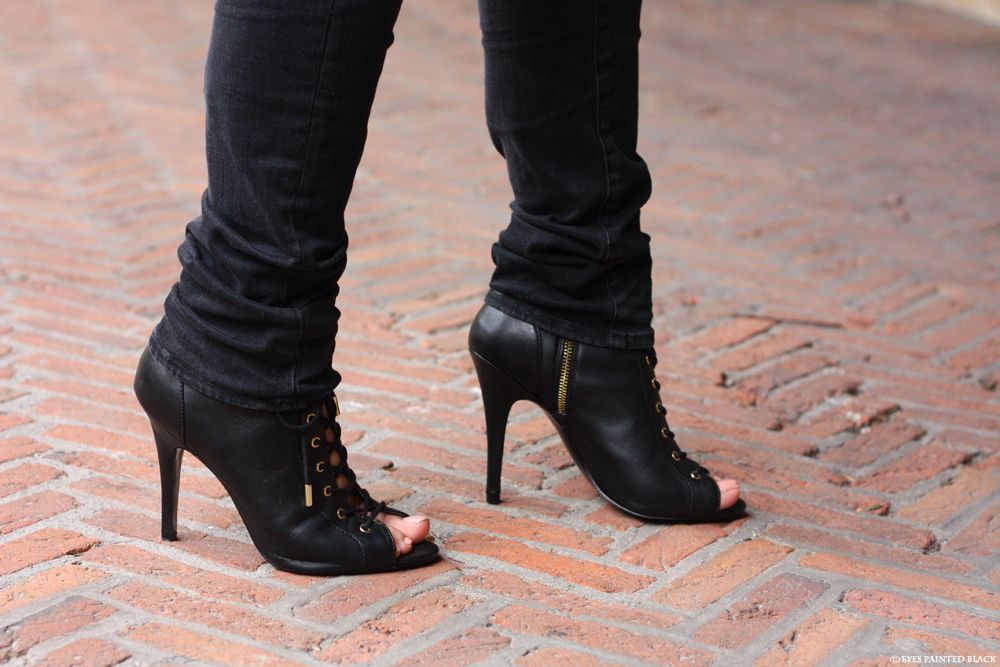 Knowing all of this, I still bought Steve Madden shoes. I guess this girl will never learn. Even if I just wear it for an hour or sit with it all night long.. I do not care. I needed to have them! That is how beautiful and sexy I thought these shoes were. They are called "Gladly", are in completely black leather with a golden side zip closure and a lace-up open front with the sexy open toe. You are really lacing up your feet in these shoes. They are surprisingly more comfortable than they look (but only for a short while), which is a good thing!
Then last but definitely not least, my first Michael Kors bag called "Selma" in black shiny leather with tote handles and a removable shoulder strap (making it very convenient for different purposes). I really love this bag but it is so precious and expensive that I am a little afraid to do anything with it. Oh dears! Does anyone have any good tips on how to take care of one's leather bag? I usually pay little attention to my not so expensive bags, but with this one.. I want to be careful!
Well, you can see how I combined the three items. Coincidentally,
they are all a first for me.
It is the first time I bought something from Esprit, Steve Madden and Michael Kors! I also got a beautiful Michael Kors wallet, if you follow me on
Instagram
, then you already know.. have a look! The esprit vest was
€90
, the Steve Madden shoes were
€100
and the Michael Kors Selma bag was around
$400
(not sure how much they are in Europe). Well, I certainly will wear this look often, though I am more than likely to opt for more comfortable shoes and save "Gladly" for special occasions.
What do you think of this look? I know it is a lot of black on black on black, but that is definitely my style
(though I surely do like color as well)
. And what do you think of all my firsts?
Pictures taken by
Annebeth
.