Trying to make my coffee look fancy
I have mentioned before that I am not an avid coffee drinker, but that does not mean I do not enjoy having one every once in a while. Well, my craving for coffee has grown a bit over the last couple of months and my house guests are always asking for coffee whenever I ask them if they would like to drink something so now I can actually give them some... because I bought the Dolce Gusto Oblo!
Getting a coffee machine had been on my mind for a while now for several reasons (two explained above) and when I came across a couple of coffee machines during the Press Days 1 & 2 I had the opportunity to try a drink. I chose chocolate milk, because I would drink that more often than coffee and that would have to be yummy before I would ever consider saying yes.. and it was yummy. Oh dear. I became excited.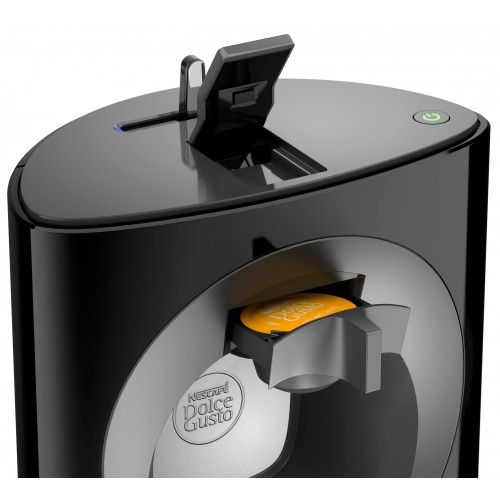 Excitement is good for nobody.. or well, not for me, anyways. I discussed the idea of having a coffee machine with my boyfriend and he agreed that having one for guests and sometimes for ourselves would be a good idea.. so off we went. Our search for the
Dolce Gusto Oblo
. Why this one specifcally, you ask?! Well, I was informed that the Oblo costs
€90
, but that there is an action going on until the end of December (so if you want one too.. go for it!!) that ensures you get back
€40
after buying the product (in Belgium only), so it would only cost you
€50
in the end. All you have to do is fill in your information and show your receipt.. and voila... cash back!
After a bit of trouble to get this thing to work (it was all me.. I can't even read drawn instructions properly, doh) I could finally have my drinks. I got
cappuccino, latte macchiato caramel,
and
Nesquick hot chocolate
to try out (not realizing there was a welcome kit with six capsules included with the purchase of the coffee machine). The first time I made my hot chocolate there was too much water in there (heck, I prefer milky hot chocolate), so that was something I needed to work on.. the amount of water added to the different products.. but it is fun to learn to do new things, especially when you do them right! Luckily, the second time I had a go at my Oblo and made a cappuccino for the boyfriend I got it right (phew no failure) so it does not take too much effort!
Ok, back to the product.
Oblo
comes in several colors. The ones I have seen were in
black, white, red, orange, and blue
. It is a
manual machine
, which means you need to turn on and turn off the water. You can choose between
hot
and
cold
beverages and the dip tray allows for four different heights to place your different sized cups on (for espressos or latte macchiatos). It is also great that if you forget to turn off the coffee machine, then it will turn itself off after 5 minutes.
A smart way to save energy!
It does not take up too much space so you can fit it into your kitchen easily.. something that was a bit of an issue for me (I have too much kitchen supplies and not enough kitchen space) but we managed! Another great thing is that the capsules or pods fit into every model by Dolce Gusto, so no need to hassle with figuring out what goes with what!
I have not even begun about the different kinds of coffees you can choose from. Well, I have mentioned cappuccino, latte macchiato (caramel) and Nesquick hot chocolate. Then there are at least
20 more different types of coffees
that come in capsules! What?! The coffees are divided into categories to make picking easier e.g. for the early birds, strong espressos (there are seven flavors to choose from), and topped with chocolate. There are even two different
teas
, though I think I will just stick to my regular tea, and
cappuccino ice
! The many drinks can all be made well under a minute,
so quick and yummy-tasting coffee made easy!
The only downside I can come up with is that the coffee comes in boxes of 16 capsules that cost €5 (this is actually still quite reasonable), but if the drink is a bit more special (e.g. cappuccino or latte) then you have eight capsules for the coffee and eight capsules for the milky bit, which means you pay €5 for eight drinks. I mean, it is clearly not as expensive as buying coffee outside, but after those eight drinks you have to go and buy a new box! At least, this way I will not be drinking too much coffee, ha!
Though, I have actually begun drinking more coffee and hot chocolate since I bought the coffee machine. Oh-oh. Another temptation to worry about! Oh, now I can also show off my lovely tea and coffee cup on my blog (photo coming soon, I hope)! It will also go perfectly with my KeepCup on-the-go, but I will tell you all about that another time! For now, you can tell me your thoughts.
Are you a big coffee drinker? Do you own a coffee machine? If so, which one? And what do you think of this one?!