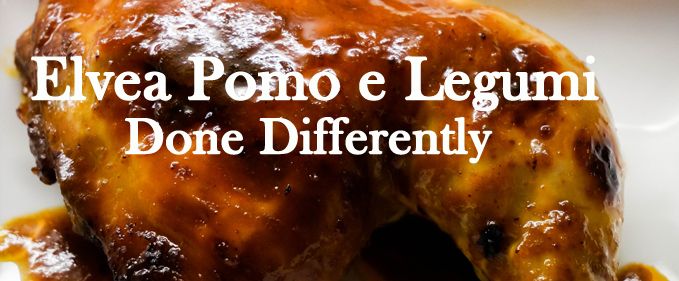 My apologies. Picture taken at night without proper light.
After having discovered Elvea during the Press Days I got the opportunity to try out some of its products, which I was very happy about because they offer a wide variety of products that I like to cook with. I tried to put a different spin on one of the products that was given to me. Here's how I did that!
Elvea produces pretty much everything tomato in a can, bottle or cardboard holder. This van vary from tomato concentrate to pizza sauce to diced tomatoes. I always get lots of these for my pasta and pizza dishes or to create a sauce for with my meat. Of course, fresh tomatoes are even better but they cost more, take more time to prepare and require more work. All in all, this works better for me right now! I received the Pomo e Legumi package, which contains two tubs of 100 grams of tomato concentrate with vegetables mashed in them. The vegetables in there are carrot, celery, onion and parsley combined with a bit of olive oil.
Well, what did I want to do different?
I would usually use a tub as a base for my pasta sauce by adding some water and spices mixed together with peppers and what not. However, with the holidays I thought it would be a nice idea to experiment with something I always love to eat: chicken. More specifically,
two chicken legs in a yummy sauce
. I wanted to marinate the chicken legs in the tomato concentrate and prepare it in the oven. How easy can it get? Really easy.
Here's what I did:
1. Take out the tomato concentrate with vegetables and pour it in a bowl.
2. Add two tablespoons of fish sauce and a tablespoon of soya sauce and water.
3. Add some herbs: tumeric (healthy, adds color and flavor), black pepper and cumin.
4. You may want to add a dash of salt, but keep in mind both the fish sauce and soya sauce are quite salty. So I tend to skip the salt, but I do not eat a lot of it.. so it depends on what you are used to.
5. Mix it all together and then marinate the chicken legs.
6. Once they are marinated place them in an
oven/roasting bag
with all the fluids. All of it. Just poor it in. Close the bag and place it in the refrigerator for a couple of hours (the longer the better).
7. After you can not wait any longer, turn on the oven to 220 degrees Celsius, place the oven bag (make sure you follow the directions on how to use an oven bag properly) in a tray and wait until the oven is ready. Then place them in the oven for about 30-40 minutes. Halfway through put your oven gloves on and move the chicken around a bit so the juices can get everywhere.
8. Now the chicken should be ready to eat. I thought it was
somewhat sweet
,
somewhat soft
and
especially yummy
to eat. I hope you like it too!
Next time I think I will want to add
garlic
to my marinade as well, because one can never have enough garlic, and some
chilies
too.. just to enhance the flavors even more! It really is a
simple
and
easy dish
to make, so that adds to how much I like it. It may be something I could make for during the holidays for my family, but then with a whole chicken (or any other time, because it is that easy). I will need more tomato concentrate for that, though! You can eat it with potatoes and veggies (as I did) or with rice and veggies (adding more water to the marinade will give you more sauce).
What do you think of the dish? Do you use tomato concentrate a lot in your cooking too?
This product was given to me by a company or PR-agency. Please read my disclaimer.