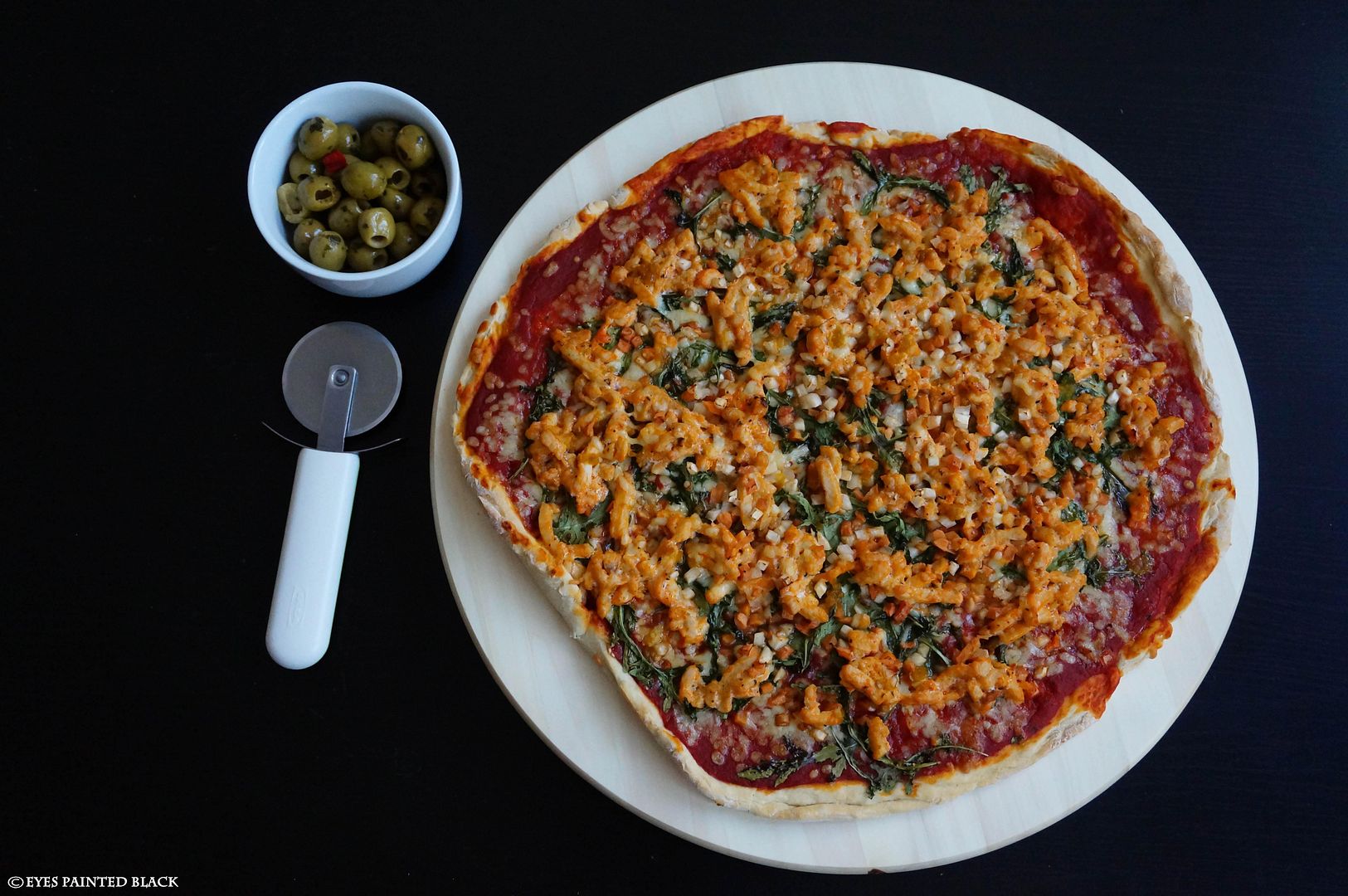 I know a lot of people love eating pizza, but I am not the biggest fan. There is nothing wrong with it, but I feel like the choices are so limited and I always end up with a "Chicken BBQ" or a "Margarita", which becomes rather boring after a while. Also, it is not the healthiest thing to eat so you feel bad afterwards... yaaaay.
Luckily, I had a solution to both these issues
: homemade pizza! I just never got around to it, because I am always so busy (ugh), but after I became inspired by
Aurélie's pizza post
I told myself there was no more time for excuses and I got on with making homemade pizzas myself! I wanted to make the pizza dough myself (because.. homemade) but I only wanted to work with the supplies I had lying around at home and what would not take up too much time.
- 175 grams of self-raising flour
- 30 grams of butter
- 12 cl of room temperature milk
- half a teaspoon of salt
Check the link above for a tutorial in Dutch. You basically put the flour, salt and butter in a bowl and blend the two, then you add the milk (they recommend doing it all at once, I do not.. because I noticed that I will have to add more flour as the dough became too sticky). Once it is not sticky anymore and you can roll it into a big ball you get your rolling pin and roll it into your preferred shape (usually round, aye). Getting a round pizza was difficult!! Need to work on that one haha.
Then you can basically play around with whatever you want on your pizza - I am obviously not going for a traditional pizza recipe that I could find at any Italian restaurant or pizza delivery place.. so, I really played around with what I had in my home and what I was in the mood for! I made two pizzas!
Pizza 1:
Pizza 2:
- tomato fritto - tomato fritto
- grated cheese - grated cheese, mozerella, garlic butter
- rucola - leftover rucola
- veggies cut into tiny bits (e.g. carrot) - smoked salmon
- thin strips of marinated chicken - veggies cut into tiny bits
I placed each pizza in the oven for about 13-15 minutes and they came out wonderfully. My major point of improvement was the dough: they were softer than I had expected so next time I will place the dough in the oven first to bake it a little before "decorating" it with toppings and then placing it back in the oven. I hope that this way the dough will become crunchier. What do you think? Will that work?! I thoroughly enjoyed eating my homemade pizzas and I could make them as healthy or as unhealthy as I wanted.. and to be honest, it does not take up that much time! Once you know how to make the dough, your pizza can be done within 30 minutes! So I am definitely making pizzas more often! Who knows, next time I might even go for a classic Italian pizza! Do you like eating pizza? And would you rather make them yourself, like I do?