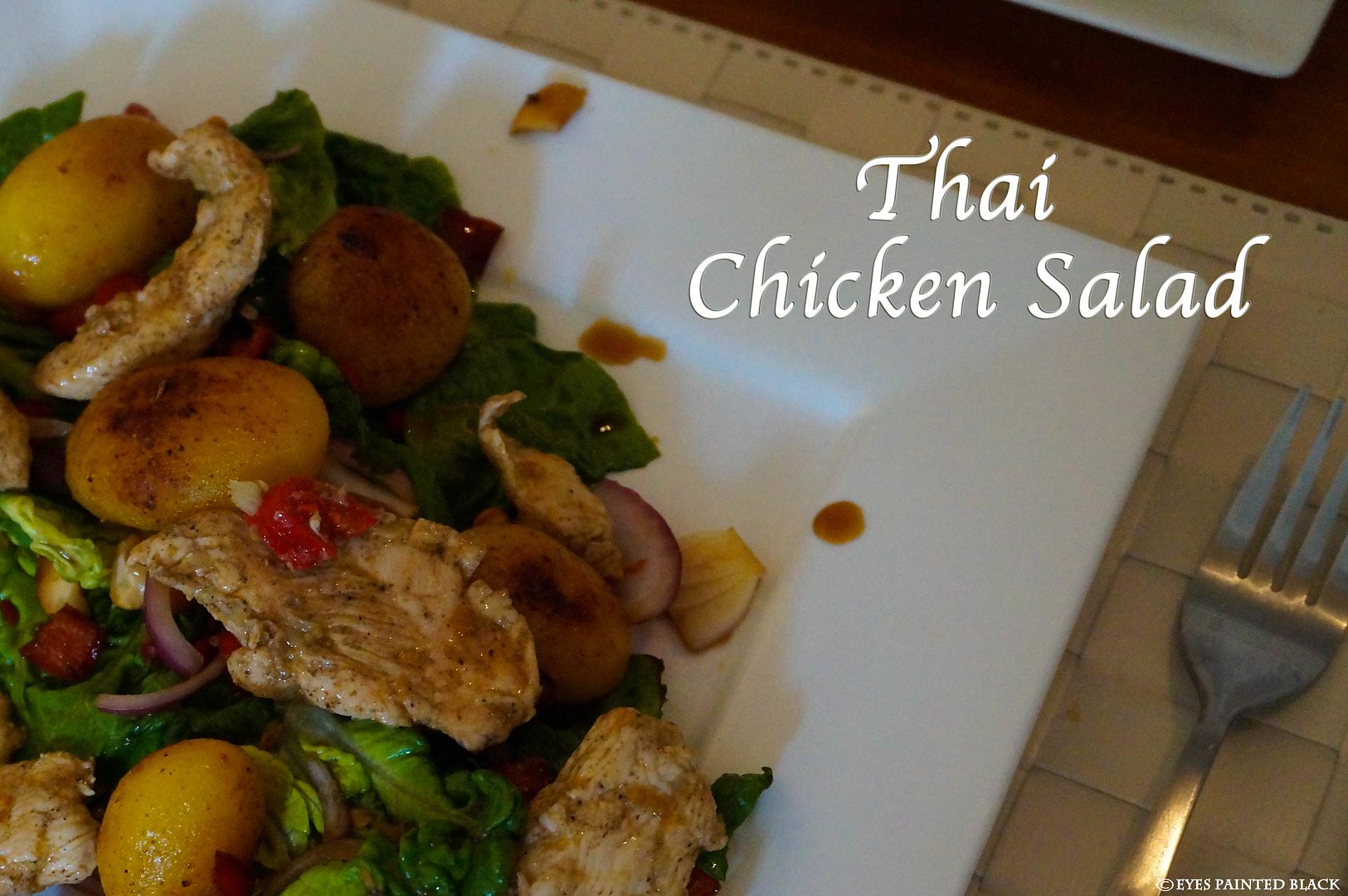 Thai food happens to be one of my favorite cuisines. I love their chicken dishes, their curry dishes, their light and fresh soups. I always feel good and healthy when eating it and not bloated afterwards. My tastebuds definitely appreciate the meals as well. Speaking of tastebuds.. this salad you need to try!!!
I just created my own spin on a salad I saw and I was so amazed with how it turned out. Usually my improvisations end up sucking.. a lot, but this one.. wow. There are so many different flavors that come together brilliantly all in one bite: fresh, sweet, sour and spicy. Just amazing. And I am not even a fan of sour!! Can you believe it? Well, I knew I had to share this one with you! This is what you will need:
Ingredient list
:
Dressing
:
300 grams of chicken filet 1 lime
1 red onion 1 tablespoon of palm sugar
2 heads of romaine lettuce 1 red chili, chopped finely
1 tablespoon of fresh mint, coriander and basil 2 cm of finely grated ginger
2 teaspoons of roasted and chopped peanuts 2 tablespoons of fish sauce
300 grams of baby potatoes 1 teaspoon of soya sauce
Though this is a salad (and such a delicious one!!) it is not the easiest recipe to follow, because there is a lot of simultaneous cooking going on. You need to think about what takes the longest to make, that is the thing you want to start out with first. I am using the order: baby potatoes, dressing, chicken, serving. Here is how you do it:
1. Get a frying pan, turn up the heat and add some (sunflower) oil. Once it is hot add the
baby potatoes
, then add your spices:
black pepper and cumin
. Then fry them until they are golden brown. This can take up to
15-20 minutes
(depending on your furnace, mine takes longer).
2. In the mean time you can get started on your
dressing
. Wash the romaine lettuce then cut it and place it in a big bowl. Cut the red onion into strips and add them to the bowl as well. Then grab a small bowl and mix together the following ingredients: p
alm sugar, red chili, ginger, juice of 1 lime, fish sauce and soya sauce
. Mix well so the sugar melts away. Now add to the big bowl (with salad and onion), mix together. If you still need to roast your peanuts (you can do this whenever, it only takes up a minute) then do now on a hot fry pan, then chop them. Put them away for a bit.
3. Marinate the
chicken
with a dash of
soya sauce, cumin, black pepper, salt
and 1-2 tablespoons of sunflower oil. Then stir-fry it for a couple of minutes until the outside is
seared
. Put the chicken filet and its juices in a small bowl and close it off with aluminum foil, so the chicken will be cooked but remain soft (be sure to check it's barely raw anymore, before putting it in the bowl). By now your potatoes should be (almost) done so set your table if you haven't yet.
Serving it is the easiest part, I suppose. I made a bed of the romaine lettuce and onions with dressing on it. Then I placed the chicken and potatoes on top and topped it off with the roasted peanuts. I added extra dressing over the salad, because it is that good. That was it. We have finally come to the end. I would definitely not add this salad to my easy and quick dishes, because it can take up some time with all the cutting and chopping and different things you need to prepare at the same time... but
it is well worth it! And I am not a salad girl.. but I am digging this! It looks so yummy, I might just make them again tonight!
Are you a fan of salads? What do you think of this recipe?