If you are looking for a fancy, modern and hip restaurant and bar where the prices are not crazy expensive and want exotic drinks and bites, then I would like to recommend the Q Lounge in Antwerp.
It is located right next to the MAS museum and the harbor, so I felt the need to add this stunning picture by Q Lounge of its surroundings. Though Q Lounge looks really fancy and hip, you need not worry about not fitting in. The staff is very welcoming and it has a very relaxed ambiance, which appealed to me right away. It was a bit dark when walking to the restaurant, which displeased my boyfriend but was very intriguing to me (so to each their own, right?).
The restaurant has the shape of a rectangle so everyone is seated next to each other, but with enough space in between so it feels quite private, and the shape gives the waiters an easy view of its customers, so they come quickly when someone is in need of something. I thought the interior was gorgeous, especially because this is a
Thai restaurant
. Yup, you read that right. There is nothing that would make me connect this with Thailand, which I found refreshing from all the typical looking Thai restaurants that try to give you a Thai-vibe as much as possible (nothing wrong with that either). It just felt modern and, luckily, they offered one of my favorite cuisines.
A great combination!
We spontaneously ended up here to celebrate my boyfriend's birthday over some nice food and wine, so we ordered a light red wine from Chile. It was very delicious and I love the shape of the wine glass, which is why I took a picture of it. The bigger they are the more beautiful. Yes, I definitely do love Jules' wine glasses from Cougar Town! I always order extra chili, because I want the meal to be very hot and I love how simply the extra chili was presented. We were amazed with how kind and friendly the staff was, probably the best service I have had so far in Antwerp, so that really pleased us and makes a world of difference.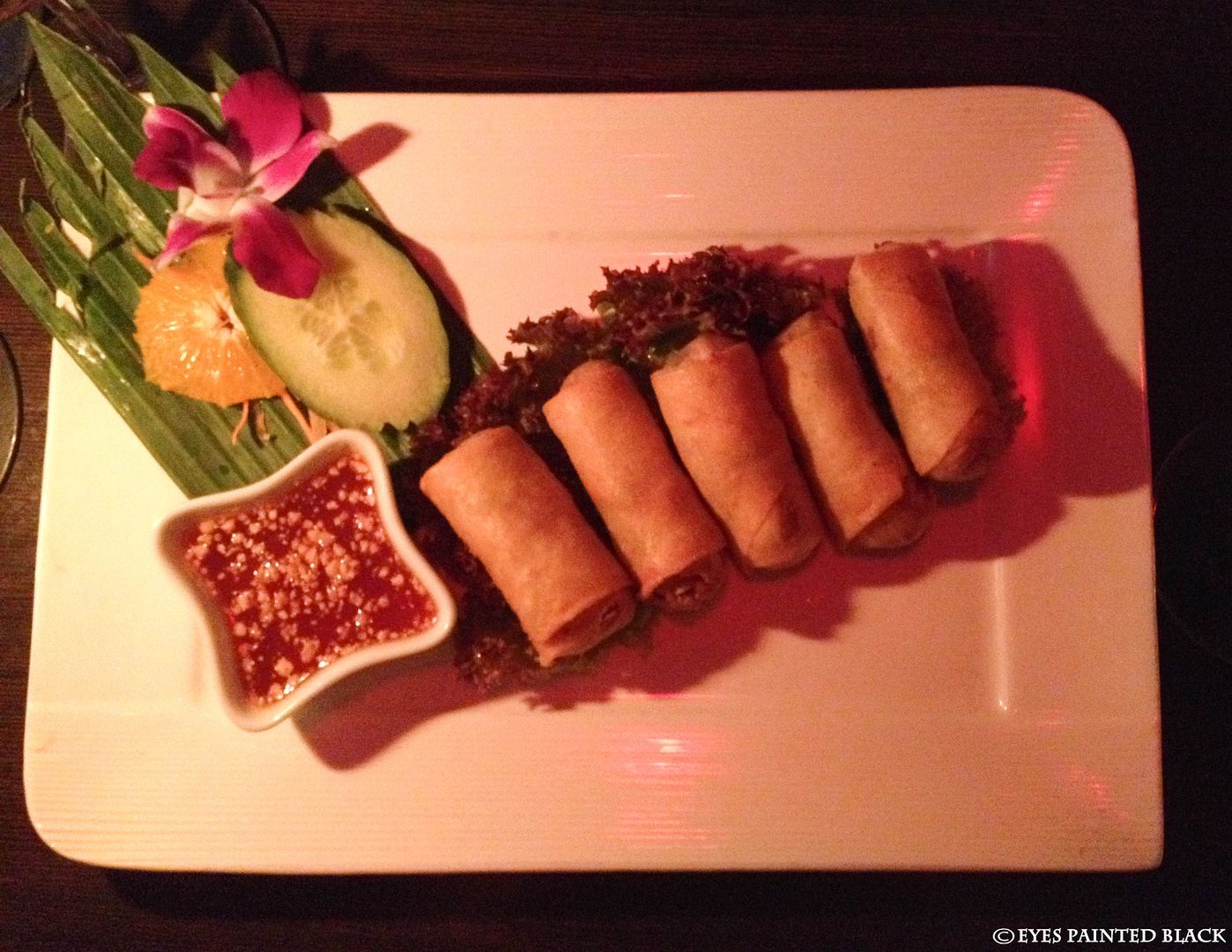 This was our starter: chicken spring rolls. I was amazed that we got five spring rolls, because I am usually served 3 spring rolls. So I was very happy about that! All the plates were presented beautifully. Our main dishes were tasty as well and very filling. However, if I compare it to other Thai restaurants then I have to say that my favorite Thai restaurant (with its typical Thai decor) is a bit better food-wise. However, I do love the ambiance more at Q Lounge! My boyfriend and I always score restaurants based on 4 things:
ambiance, food, waiters (service), price.
This is how we rated Q Lounge: the ambiance got a 7, the food got a 6, the waiters got an 8, and the price got a 7 (the amount of food you get is very decent for the price you pay), resulting in an overal score of
7
for Q Lounge. I would really love to come back and enjoy the wine some more and try out the different cocktails Q Lounge offers. You can find it here:
Van Schoonbekeplein 15, 2000 Antwerpen
or visit their
Facebook page
to get up-to-date information!
What do you think? Does the ambiance sound appealing to you? And do you love Thai food as well?