Now that it is summer time the heat can turn up instantly on one day then go down the next. That is why, even though, I had to lock myself up in my home and study as much as I was capable of doing, I could not resist going outside and enjoying the heat and sun! Some readers have been asking for things to see, places to be, so I would like you to know more about The Martini Bar!
When I read that the Martini Bar in Antwerp was opening its terrace I did not hesitate for a minute. I had never been there before but from the looks of it, it really seemed great! So, Inez and I decided to go for a drink or two. We ended up spending the afternoon there and I was able to cool down a bit. It had such a great time, that I would like to share it with you all.
The Martini Bar presents itself as a very luxurious and cosmopolitan place with its fancy interior and golden design. The terrace is in black and red and felt surprisingly comfortable, though it did not seem that way! Other than that, I thought it looked beautiful inside and it is so appealing that I can not wait to go back. As you might imagine the prices are not the cheapest, but I honestly do not mind that much (even if I live on a student income - err, what income?). It just means I can not go often, but when I do the occasion will be all the more special.
That day the terrace opened for the first time, so every visitor was given a free glass of cava and antipasta (the Italian variant of tapas). I took some bread and salmon, because I can always eat that. The cava was so fresh and cool, which was something I needed because it was so bloody hot. I am usually not a big fan of cava (or champagne or prosecco.. or anything bubbly when it comes to water or alcohol) but this went in quite well.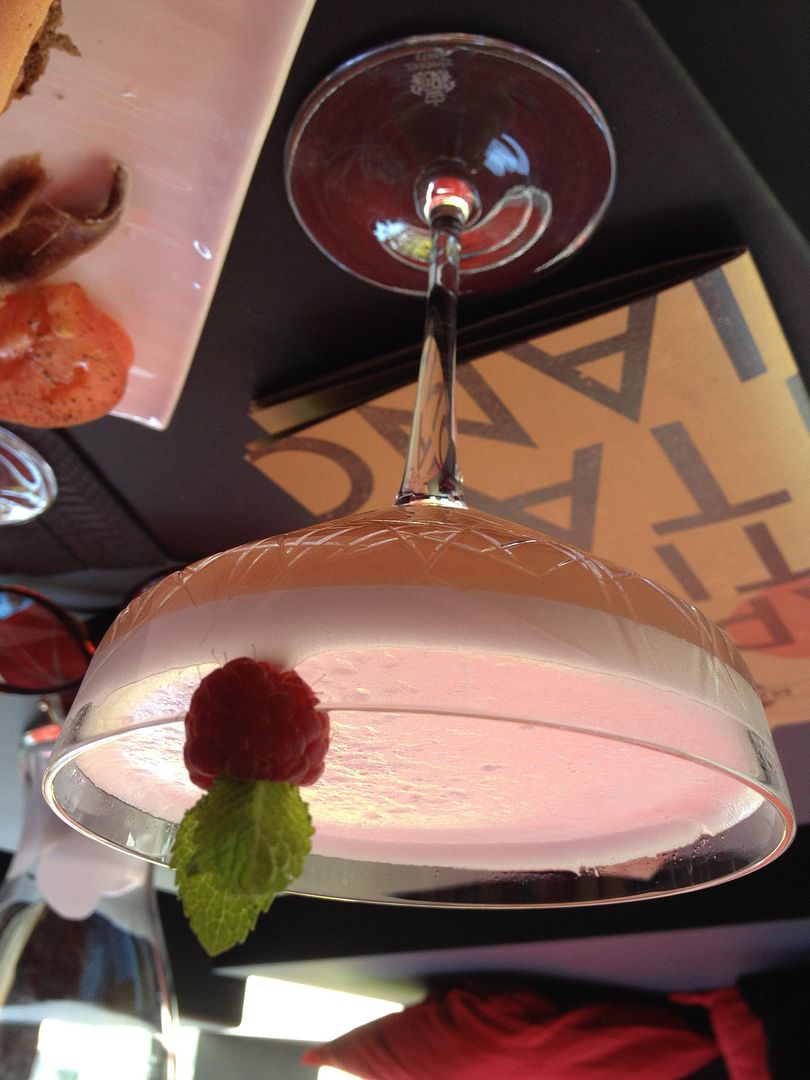 For the second round I tried this delicious soft orange-pink cocktail called "

Moneypenny

". It was a bit smelly every time I took a sip, but I realized that it was from the foamy substance on top.. it was egg white!! However, you need to try this!! It was so soft, not too sweet but very refreshing. Just so delicious! Then my third and final drink was a cocktail called "

Martini Passionata

" with passion fruit. It was the sweetest drink of the bunch and probably my favorite. On the right there is a manly drink, so guys should feel right at home as well (or anyone else who likes strong drinks).
I just sat there (really just lounging, I felt so comfortable) and spent so many hours there. It was great and I want to go back! The prices are around €10 for a cocktail or alcoholic drink, but the wines are a bit more inexpensive, so I will definitely give those a try next time, you know, when my wallet can afford it! If you are curious about the Martini Bar, you can find it at "Scheldestraat 11, 2000, Antwerp".