I do not know about you, but the last 9 months have been hectic, super busy and usually very stressful for me. I have had lots of long and tiring days, so by the time I come home I am no longer in the mood to cook anything.
This has led to a lot of take-out food that might be alright for a short period, but after a long time I was over it. Plus, it is way more expensive! I would rather be spending that money on things that make me happy. It takes some time to find good recipes that are easy and fast to make, but also taste yummy. So I thought it would be nice to share some of my findings with you. I had some sweet potatoes lying around and you can do so much with them, but I did not feel like doing anything at all.. that is why I decided to make Sweet Potato Fries prepared in the oven!
2 big sweet potatoes
cutting board, peeler and a knife
a big bowl
salt, paprika powder, cayenne pepper, cumin (to your liking)
1 teaspoon cornstarch
olive oil
oven, oven tray, baking paper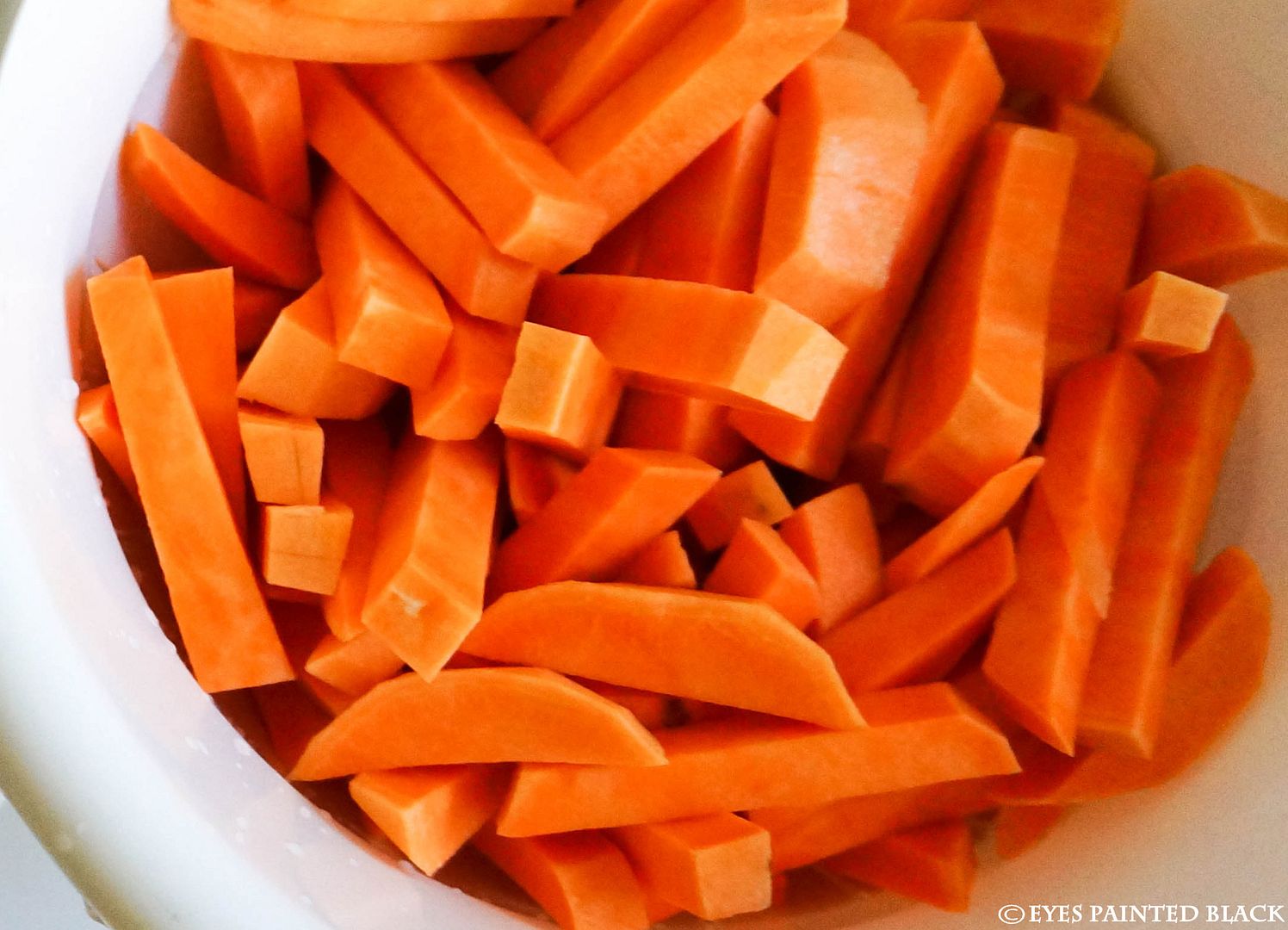 The first thing you need to do is peel the sweet potatoes and cut them into fries (make them about 1 cm big) and then place them in a bowl filled with water for 15-30 minutes. In the meanwhile turn on your oven to about 200-220 °C.
Drain the sweet potato fries after the 30 minutes have gone by and your oven is heated. Use a kitchen towel to make sure they are not damp anymore, then sprinkle the
spices
on them (add as much as you like), do not forget about the
salt
, the
cornstarch
and a bit of
olive oil
. Mix the fries together in your bowl.
This is the fun part, just shake, hustle, and play with it...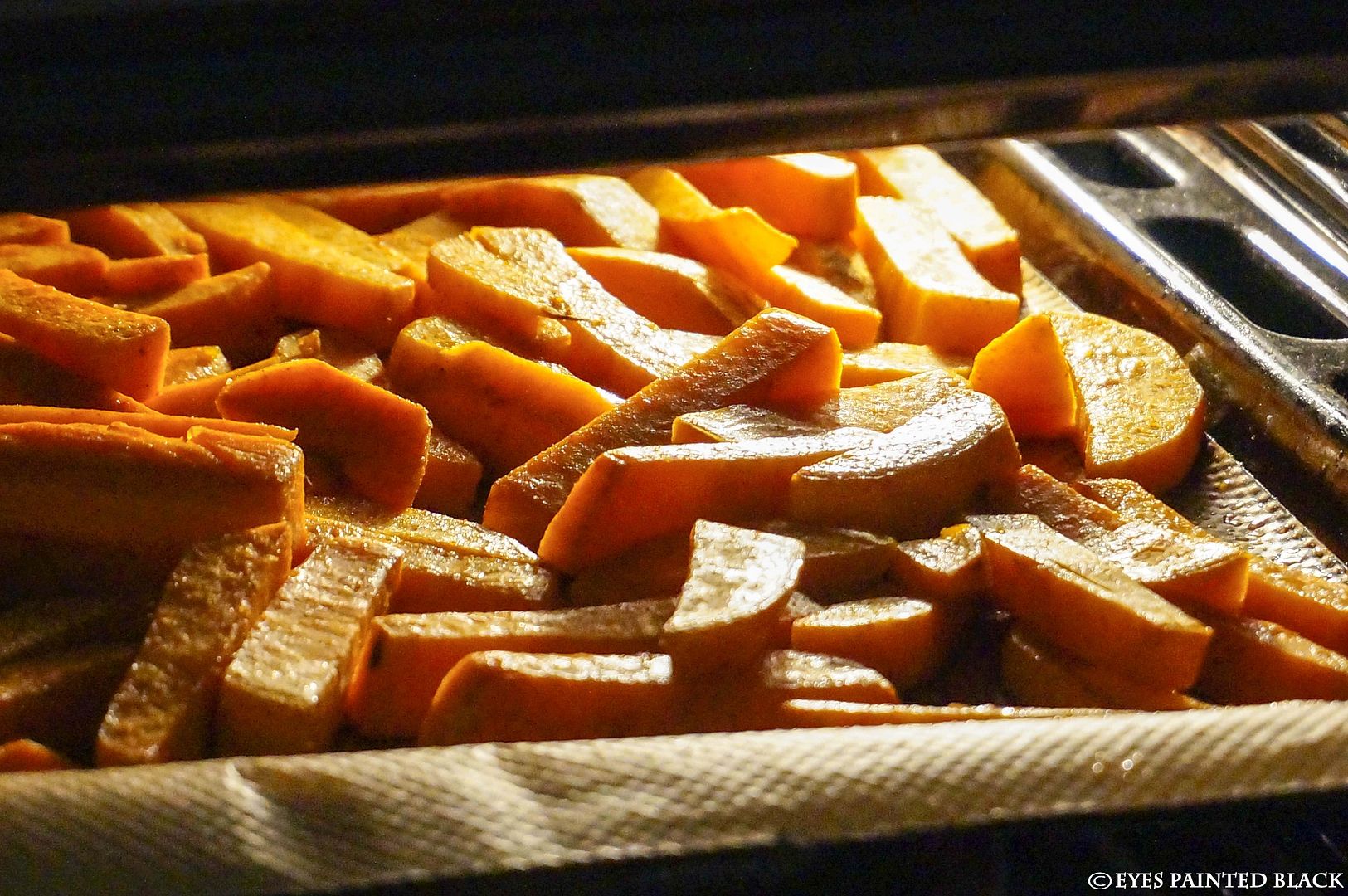 Grab an oven tray and place
baking paper
on it. Now that the fries are all evenly spiced place them on the oven tray and put it in the oven. Let it sit in the middle of the oven for about
15 minutes
before you turn them around, then place the oven tray in the highest part of your oven to so the fries become crusty. Make sure they do not burn, though. Take them out when they start coloring a bit or (like me) take them out about
10 minutes
later. They can stay in longer if you like them to be crustier; keep in mind, everyone's oven works differently!
So keep a close eye on your fries
.
And that is that.. when they are ready, take them out and serve them with a dish that goes well with it.. I served it with salmon burgers, but that is for next time. I used my favorite mayonaise sauce (I mean, I am trying to be quick and efficient - though, I will admit - but it is less healthy), but you can certainly do without. That is how yummy the sweet potato fries are! All the work I put in was some peeling, cutting, spicing and monitoring my oven. This was wonderfully combined with sitting on my couch and resting a bit after a long and tiring day! Which easy and healthy dish do you like to make? Are you a fan of sweet potatoes? I hope this will be useful for you!