If you are looking for trendy clothing that is reasonably priced, then you should definitely take a look at the cute and girly store "
Clouds of Fashion
", owned by a 21-year old fashionable and accessible girl who is ready to help you find your unique and original outfit.
This hotspot clothing store can be found in the center of Antwerp
and straightaway screams for attention with its pink walls and gorgeous outfits and/or accessories found near the windows. I was lucky to have met the owner,
Laurentine
, at
IncuFashion
and she told me where her new store was located but it was not until I randomly walked by her shop that I really took notice. Honestly, you can not
not
notice the shop, especially if you love trendy and fashionable clothing.
Laurentine had told me she fills her shops with clothing and accessories she would wear herself. Her style is very eclectic and fashion-forward, so you will find all kinds of items in
Clouds of Fashion
. I did not know where to start. The sweaters were adorable, the bags were lovely and the jewelry was so sparkly. I wanted it all, but I had to contain myself and only bought a gorgeous bracelet. I will do a post on it soon. Well, I knew I wanted to share this lovely (and not typical shop, like H&M & Zara) store with you all. So, the next time I ventured to her shop I brought my camera with me and above is a preview of her shop around the holidays (notice the Christmas tree).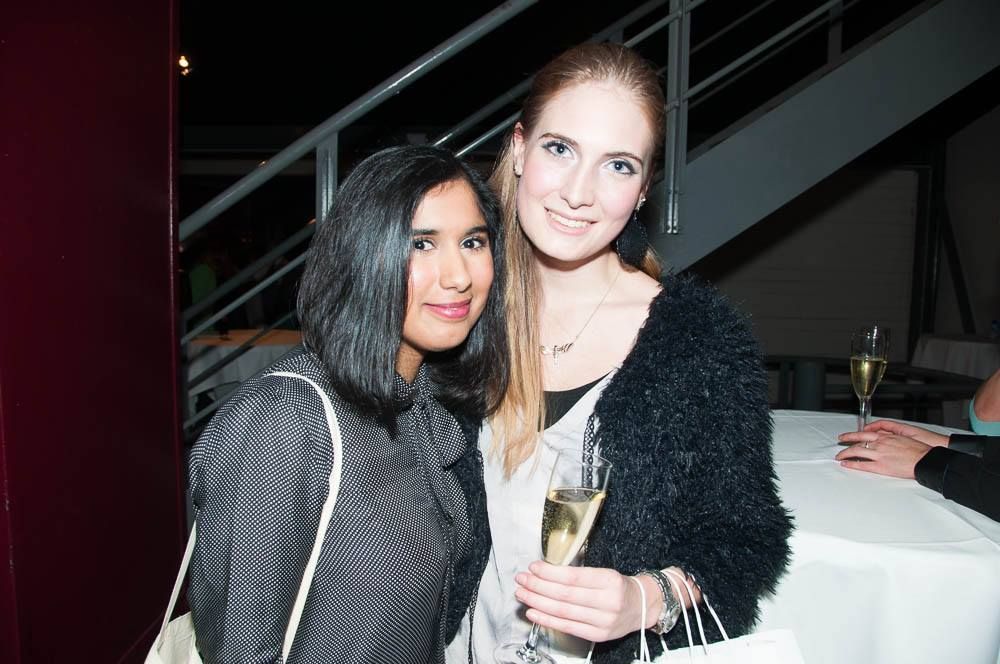 Karlien and I after the fashion show; photo taken by Eva Beeusaert
At only 21 years old, Laurentine is a busy and business-savvy lady. With her store only open for about 3 months, she recently organized her own
fashion show
displaying the new collection soon-to-be available at Clouds of Fashion, also giving her loyal customers a chance at early and discounted shopping. The event was really fun! I went with
Karlien
, from
Polished Cats
, and we were welcomed inside and I was amazed with how big and beautiful the location was. We had some photos taken (see the one above) and then we had a drink whilst waiting for the fashion show to start. We were brought to another area for the fashion show and were seated at the front row to get a full view of the lovely models. The new collection looks gorgeous and I am in love with all the printed shirts with bold and funny texts on them! Obviously, the gorgeous bags and all the shorts! Those will be perfect for summer. If you'd like to see more pictures of the fashion show, check out
COF Facebook
... or just see the photo below for my impression.
Did you notice the sparkling jewelry and shirts with fabulous writing? Also take notice to the lovely trio of ladies above who are wearing a gorgeous leather skirt, which can be found at Clouds of Fashion, and pink bow ties. And not to forget the leading lady, Laurentine, happily chatting with a customer with her unique and fancy pink pencil skirt on and pink hair! You can find Clouds of Fashion at
Melkmarkt 6
in Antwerp. Her
webshop
should come online soon, but to be continually updated definitely check out the
COF Facebook page
! Clouds of Fashion is young, it is fun and it is definitely unique!
What do you think? Is Clouds of Fashion for you too?


Edit: Clouds of Fashion has moved to the Nationalestraat 79.