As you may know from my other food related posts, like
chicken & beans
or
chicken noodles
, I love chicken. And I really love chicken meatballs. I discovered a random recipe on the Internet years ago and just started playing with it and I thought I could share the yumminess with you all.
Sharing is caring!
Making chicken meatballs is quite easy and quick
, if you have the right ingredients. You will need:
1 onion, 1-2 cloves of garlic, a bit (or a lot) of chili, 1 teaspoon of tomato purée, 1 egg, about 400 grams of ground chicken, 1 tablespoon of ketjap sauce
(known as "
ketjap madja
"
sweet Indonesian sauce). Choose the spices to your liking. I chose
black pepper, chili powder, cayenne, paprika and a pinch of salt
.
Optional
: you can add
bread crumbs
. Oh yeah, don't forget about the oil.. I prefer
sunflower oil
! Turn on your oven to about
200 degrees
and grab a nice (see-through) oven dish. Add a bit of oil in your oven dish so the meat will not stick to it. Now it's time to start preparing the meat...
Add that egg into a bowl and whisk it, then add all the other ingredients in the bowl - but save the chicken until the end. I will repeat just to be clear: add the onions, garlic, chili, tomato purée, ketjap sauce and your preferred spices. Once you've whisked it all together it will look like the 3rd picture below, unless you add more ketjap - then the color will darken.
All mixed together?
Good! Now you can add the the ground chicken in there and start mixing that together.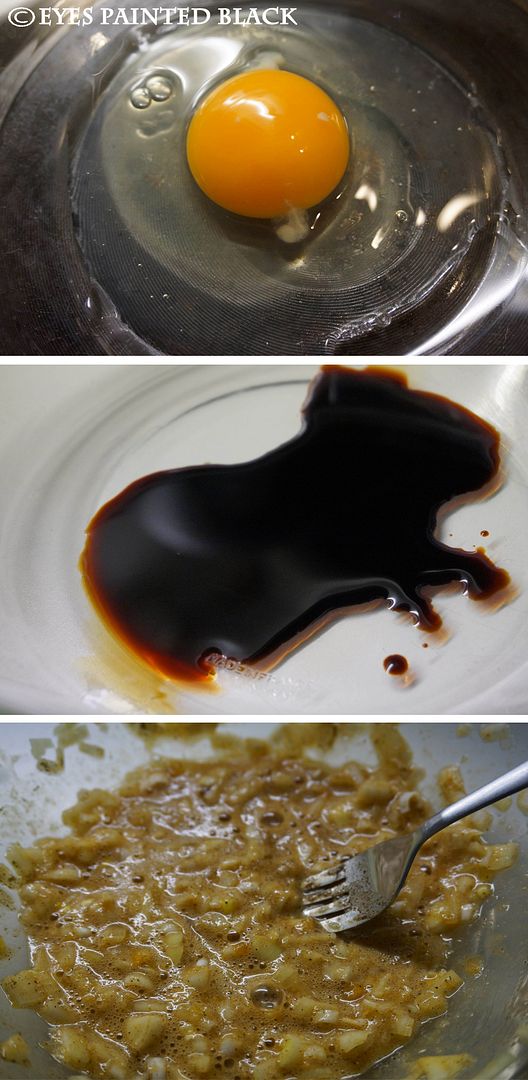 Now that you've made a sticky mess out of it, you can start shaping the meatballs. My boyfriend actually came up with a smart trick if you don't want to get your hands dirty! Use a fork or two to mix the ground chicken evenly, it might take a bit longer, then grab your
ice cream scooper
to create meatballs! The result you will find below. They're not super smooth, but I love how they came out! Once the meatballs are all set in your oven dish, add a drop of oil and ketjap sauce over each one of them and add a bit of tomato purée. Trust me... it will be delicious! Your oven should be heated enough by now, so add the chicken into the oven with aluminium foil covering the oven dish for about
15
minutes, then take off for the last
5
minutes in the oven. This might vary per oven, so you might have to check whether it's still raw or just perfectly done.
Et voila, that was all. Easy peasy, right? Well, this time I served it with french fries, because of my exams I couldn't be bothered with taking too much time to prepare my food. I think the meatballs go well with any potato dish or with a nice pasta dish (but you might want to coordinate the spices better with your pasta sauce). Anyways, that's for another time.

What do you think? Have you ever had chicken meatballs?

I really love this chicken dish, so I hope that you do too if you try them. And if you do, be sure to share the results with me on facebook, twitter, instagram or email! I'd love to know!